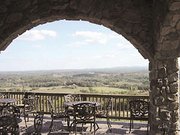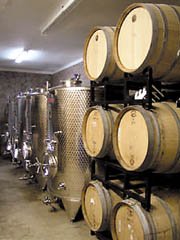 Take a weekend getaway through Loudoun County's wine country and let someone else do the driving. Reston Limosine offers two wine tours on the weekends to nine different "adventures."
WORKING WITH the Washington Wine Academy, for $35, the limo will pick up passengers around 10 a.m. at Dulles Town Center near JC Penney's or at the West Falls Church Metro or Leesburg Premium Outlets. Two wineries are included in the tours that last about six hours on Saturdays and Sundays. The trips include transportation to and from the wineries, with stops lasting about 1 1/2 hours each. When finished, they drop off passengers where they started around 4 p.m.
"It's extremely relaxing," said Kristin Tanzi, business development coordinator for Reston Limosine. And each winery has characteristics that make it unique.
"Bluemont Vineyards has a spectacular view," she said, while Notaviva … "has a great concept. They do a pairings of wines with music and they have acoustic music in their three-tiered tasting room," she said.
Doug Fabbioli of Fabbioli Cellars is pretty down to earth "because he literally makes his wine in his garage. His Raspberry Merlot is great," said Tanzi. "He's very much into the process about what goes into it … He's into the old-school wine-making."
Guests can order $15 boxed lunches of ham and cheese sandwiches, turkey, chicken salad, and Caesar and garden salads. Included are pickles, chips, bottle of water and cookies. Guests are free to bring their own lunches and non-alcoholic beverages. Or purchase wines at the wineries and drink them on the bus.
"We have a strict policy on public intoxication," said Kristin Tanzi. "We are in the business of promoting the wineries and we want to make sure it's enjoyable for everyone."
The 475-acre Tarara Winery on the Potomac River is one of the "weekend wine stops," said Heather Akers, director of sales. With hiking trails and outdoor pavilions, there's lots to see and do. Because it's open every day, Akers says it's a good place to play hooky from work.
AKERS CALLS it more of a party zone in a lovely setting for larger groups — anything over 13 people. And although the winery can accommodate two full motor coaches, the experience is still very intimate, she said.
Tarara has wines for the novice as well as for more distinguished palates. The staff helps guests choose food pairings for a well-rounded experience.
"We offer a combination of featured tasting and reserve wines; a combination of both of our flights," said Akers.
In addition to wine tours, Reston Limo does bachelor/bachelorette parties, corporate team building, family get-togethers, and anniversary parties. Tours can be for two people or 10, 20 or 30 people.
In business for 18 years, Reston Limo has been conducting the winery tours for about five years. The Sterling-based business is run by Christina Bouweiri and husband William. They have 140 vehicles ranging from sedans to limos to 57-passenger coach buses to SUVs.
For details, go to www.washingtonwineacademy.org/wine-tours.htm Or visit www.Restonlimo.com or go to the Loudoun County Web site: http://visitloudoun.org. See online guides at http://visitloudoun.org/getguide/.