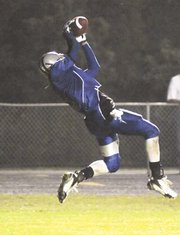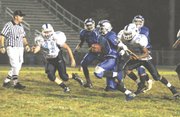 It's not unusual to see a high school football coach yell at his players during the heat of battle in order to motivate his squad.
But West Potomac coach Eric Henderson and his staff take their decibel levels to unprecedented levels by getting their ball boys involved in the screaming that goes on. Every time a Wolverine play is complete on offense, it prompts a response of "New ball" from one of the West Potomac coaches, a signal to ball boys — who are usually freshmen and JV team members — to sprint across the field to give their varsity teammates a fresh pigskin as quickly as possible.
Although the ball boys have little to do with what goes on between the whistles, the frenzied pace created by West Potomac — on the sidelines and on the field — has a lot to do with the Wolverines' offensive explosion so far this season.
After last Friday's 51-27 win over previously undefeated Yorktown, in which West Potomac amassed more than 545 total yards of offense, the Wolverines have established themselves as one of, if not the leaders in offensive productivity three games into this young season, averaging more than 37 points per game.
"We're trying to create some tempo and get going as quickly as possible," Henderson said. "We feel like we're one of the best-conditioned teams in the northern region because we want to go as fast as possible. We feel like we get big plays because some people aren't necessarily ready for that tempo."
Yorktown was certainly caught off guard by West Potomac's pass-heavy attack. Leading the way for the Wolverines was senior quarterback Cole Walter, who finished a remarkable 31-for-42 for 329 yards and four touchdown passes. Walter made sure to spread the wealth as four Wolverine receivers had at least four catches.
"I'll give the ball to anyone on the team," Walter said. "I've been in this system since I was in ninth grade and I'm real comfortable running it. It's like second nature for me now."
In three games this season, Walter has now thrown for close to 830 yards and 12 touchdowns, both tops in the northern region thus far. Many of those passes have gone to senior Kristian Rodriguez, who once again ran an opposing secondary ragged. Rodriguez finished with six catches for 124 yards and two touchdowns, adding to his five scores in West Potomac's first two games.
Senior wide receiver Will Rosenkrantz added 10 catches for 84 yards and touchdown, while junior running back Edward Johnson ran for 99 yards and touchdown.
This sort of production wasn't the norm at West Potomac before Henderson arrived four years ago. The team ran an offense that was more like the classic "three yards and a cloud of dust" schemes of the past. But without a large quantity of quality big guys to open up holes in the running game, Henderson has transformed his offense into a pass-happy spread attack that can score points with the best of them.
To get there, though, Henderson had to develop the skill players like Walter, Rodriguez, and Rosenkrantz necessary to implement the system. It's a tranformation in philosophy and development that the coach says his staff "takes pride in."
"We got kids that play hard and they try to make things happen," Henderson said of his team, which faces Lee this Friday. "This is their fourth year in this offense and the kids understand it now. It's intuitive and they do a good job."