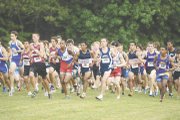 Tuesday's Monroe Parker Invitational, an annual cross country race held on the 2.98-mile course at Burke Lake Park, traditionally provides both coaches and runners the chance to evaluate the work that's put in over the summer and it also offers a sneak peek at some of the talent they'll see later in the season.
The Monroe Parker doesn't make or break anyone's year, but because of its scheduled slot in the season — though Tuesday's meet was rescheduled from Sept. 6 after remnants of Hurricane Hanna pummeled the area — an evaluative theme tends to surround the race.
Several storylines were rehashed from last season and many more were developed over those 2.98 miles. Where those runners and teams finish will only be determined by the 2008 cross country season that's just hitting its full stride.
For Lake Braddock, a team that's plenty used to posing for pictures with trophies after several races at Burke Lake Park, the Monroe Parker might've seemed like old hat. Bruins coach Mike Mangan, who almost always wears a blue cap embossed Lake Braddock's logo, strangely elected to go without.
"It's a heck of a pre-test," said Mangan, whose girls and boys teams both posted first-place finishes. "It lets us know where we're at."
<b>WITH THE WINS</b>, Lake Braddock found itself in a familiar position. The boys team scored only 62 points, nearly half as many as second-place South County (108). But the girls team one-upped its counterparts, scoring only 51 points to pull away from West Potomac (108).
The Bruins were powered by Liana Epstein, who finished first overall with a time of 18 minutes, 16.28 seconds.
"I think the weather helped," Epstein said. "It's pretty cool. I definitely still felt Saturday's race [the Brentsville Relays] in my legs, but that's cross country. It felt good and I'm very proud of the team."
Teammate Casey Lardner finished eighth in the girls race, clocking in at 19:08.75, while Kelly Hagan and Amanda Parker finished 13th and 14th, respectively.
For the boys squad, Alex Clark earned a fourth-place finish with his time of 15:48.88, John Cruz finished two spots behind with a 16:00.84 and Sam Rubenking finished 11th with a 16:17.30.
Sporting a black shirt with the slogan "We Still Run for Them" on the back with arrows pointing out to hypothetical teammates on her left and right, Epstein embodied everything that Mangan has worked so hard to develop at the school.
His classic line of "the individual comes second" couldn't ring more true. One of Mangan's favorite memories still lives in a story from the 1980s — he even called himself an "old-timer" — about how Langley had the top runner in the country, but Lake Braddock still finished in a pack behind her.
Out of 23 district titles awarded since 1985, the girls team has won all but five. On the boys side, Lake Braddock has won eight titles during that span.
"We hear all sorts of stories from our coaches, alumni and old teammates," Epstein said. "We're just constantly hearing about the legacy of our team. It's hard to live up to, but it's a good reminder of how good we've been in the past and how good we can be."
<b>FOR THE CHANTILLY CHARGERS</b>, that stride was hit at the perfect time. With the slightest bit of gas left in his tank, junior Chris Foley, in second place at the time, made his push no more than 20 yards from the finish.
Edison's Leoule Degfae slowed slightly and Foley kicked into a higher gear. Less than a half a second separated Foley and Degfae, but, luckily, Foley's gamble fell on the welcomed side of the separation.
With a time of 15 minutes, 26.64 seconds, Foley took first place.
"I came around the last turn, and as I came around it seemed like the distance was cut in half," Foley said. "My coach was right there yelling, 'He's only three seconds ahead, he's only three seconds ahead,' and I knew I could make it up. I just gave it all I had."
For Chantilly's girls team, the Chargers were bolstered by Rachel Grochowski's sixth-best mark of 18:59.24.
"I'm happy for [the Monroe Parker]," said Chantilly coach Matt Gilchrist, whose girls team finished 11th. "But in the same sense, you celebrate today and you don't expect it to happen every time."
<b>LIKE SO</b> many others, Westfield took the opportunity to evaluate and develop its young team.
Melissa DiVecchia logged the top Bulldog finish, crossing the line 20th overall with a time of 19:34.61 for the sixth-place girls squad. Leah Carroll gave Westfield two runners in the race's top 25, as she finished 25th with a time of 19:45.94.
On the boys side for Westfield, Eric Mitchell finished 41st to lead the 12th-place team, clocking in at 17:02.84.
<b>IF THE MONROE PARKER</b> was any indication, the South County Stallions are right on track to make a move to the top.
The boys team's second-place finish to Lake Braddock not only validated the work they've put it, but it also allowed coach Robert Christie's team to see where it needs to go.
"I'm really happy about today," Christie said. "We worked really hard this summer, so we feel like we're ready to make a move in the region. It's just a matter of staying healthy and making sure that we don't get overconfident."
Tom Keefe led South County with an eighth-best time of 16 minutes, 9.13 seconds, and he was followed by teammate Brett Mandeville, who finished 18th with a time of 16:31.25.
Alyssa Campbell led the South County girls team with her time of 20:08.45, which ranked her 36th.
<b>WHILE THE MONROE PARKER</b> may offer a peek into the future of this cross-country season, nothing topped the peek into the future that West Springfield coach Duke Baird received earlier in the day.
After his team was at Burke Lake Park and ready to run, Baird got a call telling him that his wife was in labor. With Baird on his way to the hospital, eighth-year assistant Chris Pellegrini was left to run the show.
"Family comes first," Pellegrini joked.
Both West Springfield teams made their departed coach proud. Behind a third-place finished from Paige Kvartunas (18:54.67), the Spartans grabbed a third-place finish in the girls competition.
"For [Kvartunas], it's all a matter of focus," Pellegrini said. "If she can stay with the leader then she's fine. It's not really a matter of fatigue for her. If she drops into nobody's land, she'll just kind of drift away, but she's definitely going to be one of our best runners this fall and as she learns to just harness in that focus, she's going to be ready to go."
Anna Barber chipped in with a 10th-place finish, logging a 19:18.40, and Lisa Williams finished 15th with a time of 19:25.33.
For the third-place West Springfield boys team, Pellegrini mentioned that they "did a great job on pack running," as Daniel Tobin (ninth, 16:12.10) and Colin Taylor (10th, 16:12.85) illustrated their coach's point.
"I've always felt it's good to do your summer mileage and get ready," Pellegrini said. "But I've always felt like, for our team specifically, we're never quite as far along as many of these other programs are in early or mid-September. I'm more interested in seeing the other teams play their cards, so we can see what everyone's got."
<b>THE "LESSON LESSON" MANTRA</b> for the Monroe Parker proved strongest at Edison High School. Leading most of the race, Edison's Degfae slowed at the end and was passed by Foley for the title.
Degfae, whose brother Tihut typically joins him at the front of most races but has been sidelined with a hip flexor issue, later apologized to his team for the error.
"It's a tough way to lose and a tough way to learn a lesson," said Eagles coach Bernadette Flynn. "He thought he had the race won and he slowed down, so hopefully he'll remember that for the rest of the season."
While Degfae's second-place performance might've come as a shock, it wasn't the team's only second-place finish that surprised Flynn.
Myah Hicks, a sophomore who in the spring was running freshman track and field races sometimes by herself, finished second behind Epstein. Hicks' time — 18:34.65 — served as vindication that the young runner has arrived.
"She did a lot of training this summer," Flynn said. "She went to running camp. She's just a really hard worker, really competitive. She has a lot of talent."
<b>AT THE START</b> of the boys race, several members of the Lee boys team came barreling down a cement hill and sprinted toward the finish line. They were inexplicably late, and coach Barry Mensh didn't hide his disappointed.
Still, after a positive in-race showing for both Lancer squads, Mensh's frustration was tempered just a bit.
"I'd be lying if I said I wasn't disappointed," Mensh said. "I think on a positive note, out of the 10 guys that ran today, there's only one that has more than one year of experience."
Mensh looks forward to developing his young runners, some of whom were running their first-ever race on Tuesday. Nathanael Meseret, who "underran parts of [the race] and overran parts of it," said Mensh, still managed to finish seventh with his time of 16:08.87. The Lee boys team finished 13th.
On the girls side, the Lancers finished 10th thanks to Erin Moore (19:42.84) and Nina Srikongyos (19:45.31), who finished 23rd and 24th.
<b>THE FAIRFAX REBELS</b> found out how good they could be this season. After finishing 22nd at Brentsville, the boys team rebounded with an eighth-place finish Tuesday, led by junior Kevin Dowd's fifth-best mark of 15:49.22.
Dowd, who enjoyed the weather and the course because he was finally able to get his legs moving, knows that the Monroe Parker is only one small step during a rather lengthy season.
"Things are going to change come districts, so it's a good gauge for me," Dowd said. "I know that I usually get faster than some people in the middle of the season. It was just good for me to get a gauge."
Joining Dowd up front was teammate Ethan Paster, who finished the race in 16:19.77.
Frances Dowd spearheaded the girls team's 13th place finish with her 11th-best time of 19:21.71.
For Woodson, Ethan Katz (16:22.12) and Josh Chartier (16:25.82) excelled for the Cavaliers, finishing 14th and 16th, respectively, while the boys team logged a ninth-best finish.