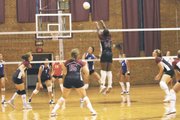 The girls of Episcopal High School took home the 2008 City of Alexandria Volleyball Championship last Saturday in a hard fought match against the defending champion Lady Titans of T.C. Williams High School. The annual competition between local high schools was hosted this year on the campus of Episcopal, and also featured teams from St. Stephen's/St. Agnes and Bishop Ireton.
In a competition lasting over two hours, the Titans traded spikes and digs with Episcopal in rallies that often left fans breathless for the demonstration of power and athleticism. Episcopal took the first set, 25-22, but the Titans responded in the second to reverse the score and even the match. In the third set Episcopal appeared to gain control of the evening, winning decisively, 25-16, only to see the Titans come back strong in the fourth to even the match with a 25-19 win.
In the fifth and deciding set the game is played to 15 rather than 25. While both teams were justifiably tired, Episcopal started the fifth set methodically, collecting early points and refusing to allow T.C. Williams an opportunity to hold serve. Episcopal went on to win the fifth and final set by a score of 15-6 and the match by a score of 3-2.
Episcopal will hold the city trophy until next fall when St Stephens/St. Agnes, Bishop Ireton, T.C. Williams, and defending champion Episcopal will again meet in friendly rivalry to establish Alexandria volleyball bragging rights. The Alexandria girls high school volleyball championship began in 2005 and was won by SSASA that year. T.C. Williams won back-to-back championships in 2006 and 2007.