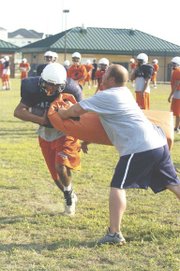 The Falcons of Briar Woods High School are flying high on the gridiron early on this season. Head coach Charlie Pierce's football team improved its record to 2-0 last Friday night with a 28-0 win at Manassas Park (Bull Run District). Two weeks earlier, Briar Woods defeated Millbrook High, 27-13, in its season opener at home in Brambleton. It was Millbrook (Winchester) who ended the Falcons' season a year ago at the Region II playoffs.
"Millbrook was a team that made it to the Region [II] championship. They knocked us out of the playoffs [in the semis]," said Pierce. "To start this season with a quality win against a quality opponent, you feel good about it. It was our first game of the schedule. We wanted to take care of unfinished business when we had a chance to get to the region championship last year. Now, we want to start the next chapter."
After beating Briar Woods in last year's region semifinals, Millbrook, a member of the Northwestern District, ultimately saw its 2007 season end with a loss to Monticello (Charlottesville) in the region II title game.
Briar Woods, following the recent season opener win over Millbrook, had a bye on its schedule the following week before getting back in action on Friday night against Manassas Park. In the non-district win, the Falcons built a 14-0 halftime lead and scored two third quarter touchdowns to finish out the game's scoring.
Briar Woods junior quarterback Austin Frattali threw touchdown passes to senior wide receivers Jeff Simmons (first quarter, 31 yards) and Jeremy Gray (third quarter, 24-yard strike). For the game, the first year starting signal caller completed nine of 15 passes for 155 yards. Gray caught six balls for 109 yards on the night. The Falcons also had touchdown runs from Ray Taliaferro (17 carries, 70 yards) and Billy McDonald.
<b>BRIAR WOODS</b> has run the ball well over its first two games. In the season opener victory over Millbrook, four Falcon running backs rushed for 50-plus yards. Those players were Andrew Davidson and Taliaferro, who both averaged over eight yards per carry, as well as Matt Eisenman and McDonald (2 TDs). Taliaferro is a transfer student from DeMatha High in Hyattesville, Md.
Defensively against the Pioneers, Briar Woods had interception returns for touchdowns from seniors J.T. Bailey and Jake Ashton.
Four of Briar Woods' key leaders this season are senior captains. They are Bailey (linebacker/running back), Ashton, Davidson, an inside linebacker on defense and a running back out of the slot (spread) position on offense, and two-way tackle Aaron Kakol (6-4, 270 pounds), a fourth year starter in the four-year old Briar Woods' football program.
Davidson calls the plays in the defensive huddle.
"He's one of the most aggressive players on the team," said Pierce, of talented linebacker Davidson. "He's very physical and demanding of himself and the players around him. He makes the defensive calls and keeps guys in check."
Two other team leaders include Gray, a receiver/defensive back who is coming off a junior season in which he caught 40 balls when then-senior Alex Munro was the starting QB, and Frattali, the JV team's starting quarterback and the varsity backup a year ago.
Coach Pierce said Frattali has shown good progression as the varsity starter this season.
"He's grasping the offense and getting better every week," said Pierce. "He has the ability to run the ball pretty good. He doesn't have breakaway speed, but has good quickness. He throws a good ball. [Against Millbrook] he did a great job in his first game as the starting quarterback."
Briar Woods will play a home game against non-district opponent Hedgesville (West Va.) this Friday night. Then, the following week, the Falcons will open up their Dulles District schedule with a road game at defending district champion Broad Run on Sept. 26.