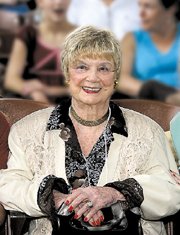 Christina Heimlich is a dancer, soloist, teacher, choreographer, mentor, philanthropist, author and former radio star. She is also a 90-year-old woman.
Throughout her long life, Heimlich's titles and accomplishments stem from her love of dance. Born in Germany, she was trained at a Russian ballet school, where she learned discipline and technique. At age 16, she was a soloist with the Sadler Wells Ballet, later the English Royal Ballet. She danced with the famous Alexander von Swain and performed in great theaters and opera houses all over Europe, including a performance at the Imperial Palace in Vienna, Austria.
In the post-war years, Heimlich took a short break from her dancing career to pursue acting. Instead, she starred as "The Voice of Berlin" for Radio in the American Sector in Berlin, Germany. Her show's humor and outlook on politics won her fame in both Europe and the United States.
Heimlich's picture was featured in Time Magazine in 1949 with an article about her career. She came to the United States in the late 1940s after being invited by Congress to speak about freedom and democracy.
After marrying and settling in the Washington, D.C. area in 1962, Heimlich opened The Christina Heimlich School of International Dance. Since then, she has been running the school, as well as instructing and choreographing.
Throughout the last 45 years, she has taught thousands of students and remains in touch with many. Heimlich's teaching philosophy combines practice, technique and discipline while strongly encouraging students to use their imaginations.
Instead of teaching pre-choreographed routines and famous ballets, Heimlich creates dances and routines for students based on age group and ability level.
"I've always wanted children to use their imaginations when dancing," she said. "I started choreographing original routines to make ballet less intimidating to children. I wanted my students to use their imaginations and grasp what a terrific thrill dancing can be."
The Christina Heimlich Dancers have received invitations and awards both nationally and locally. Over the years, the group has been invited to perform at the White House, Kennedy Center and at the United States Army Base Fort Myer.
It was Heimlich's love for international dance and teaching that led to the formation of the International Children's Festival. The festival, which was co-founded by Heimlich and Catherine Filene Shouse, started in 1971 and takes place each year at the Wolf Trap National Park for the Performing Arts in Vienna. Shouse, a strong supporter of the arts, donated part of her personal property to the park and both women were an integral part in the development of the festival.
Traditionally, Christina Heimlich Dancers perform an original piece choreographed by Heimlich at the festival. For the past 38 festivals, Heimlich's dancers have graced the stage. This year's festival featured Heimlich's interpretation of the Pied Piper.
"Usually, I am inspired by a piece of music," Heimlich said. "It just goes and goes and goes in my mind, and I can just imagine the dance unfold."
Heimlich encourages the merging of cultures through dance. Past festivals have featured dancers from Sweden, Spain, Nepal, Finland, Bolivia and many other countries. The goal of the festival is not only for the audience to learn and enjoy different types of dance, but also to have her own students interact with other dancers from other cultures.
"Even without speaking the same language, the children communicate with each other," said Heimlich. "It just shows the universally shared language of arts and music."
Throughout Heimlich's 90 years, dance has remained a constant in her life. She turned her passion into a career and dedicated over half of her life sharing this love with others. When she was not dancing, Heimlich found time to author two books and travel.
"Dancing is something that never leaves you. It's who you are, and even after 90 years, it has never left me," she said.