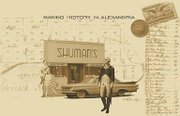 Alexandria is history. That is a given.
That history will be celebrated, Saturday, Sept. 27, from 6:30 p.m. to 11 p.m., during the first Historic Alexandria Museum Gala at the Torpedo Factory Art Center, 105 N. Union St., to garner financial support for the preservation of Alexandria's history.
Under the theme, "Making History in Alexandria," it will also honor retiring U.S. Senator John Warner for his service to Virginia and his efforts to promote Alexandria's proud heritage.
An evening of dining, dancing and entertainment, the gala will pay tribute to Alexandria's rich, historic past and its intimate involvement in American history that stretches from before the Revolutionary War to the terrorist attacks of Sept. 11, 2001. That history has encompassed two world wars, the Korean Conflict, the Cold War, the Vietnam War, and today's tumultuous landscape from Iraq to Wall Street.
One of the evening's highlights will be the opportunity for attendees to board the "Godspeed," a replica of one of the sailing ships that carried English settlers to Jamestown in 1607. It will be docked at Alexandria's waterfront for this momentous occasion.
Beginning with cocktails and 18th century entertainment on the riverfront from 6:30 p.m. to 7:30 p.m., guests will be called to dinner by the Alexandria Town Crier and the City of Alexandria Pipes and Drums. During dinner, a visual experience in black and white will recall the city's history and the efforts made to preserve it. Following dinner guests will be able to enjoy dancing to the big band sound of the Eric Felten Jazz Orchestra.
Ticket prices begin at $150 per person with five sponsorship opportunities available beginning at $2,500 for a reserved table of 10. Guest with tickets at sponsorship levels ranging from $3,500 to $15,000 are invited to attend a pre-gala party at the historic Old Town home of Dennis and Lauren Garcia. This 1787 home, originally built for Dr. James Craik, George Washington's Revolutionary War private secretary and physician, was recently restored by the Garcias.
Proceeds from this event will benefit a variety of Alexandria's historic sites and museums including the Alexandria Archaeological Museum, Alexandria Archive and Records Center, Alexandria Association, Alexandria Black History Museum, The Athenaeum, Carlyle House Historic Park, Fort Ward Museum and Historic Site, Freedom House Museum, Friendship Firehouse Museum, Gadsby's Tavern Museum, Alexandria Foundation, Lee-Fendall House and Gardens, The Lyceum, and Stabler-Leadbeater Apothecary Museum.
"This event offers an exciting opportunity for us to come together and show our support for the historic sites and museums of Alexandria which educate and inspire us. Funds raised will support the preservation and educational programs of our museums," said Alexandria Mayor William D. Euille.
"Your participation in this event will help showcase the illustrious heritage and exciting future of our city and help to develop increased visibility and support for the historic sites that are so important to Alexandria's economic viability," Euille said.
<b>PRECEDING THE</b> gala, beginning on Friday, Sept. 26, is the 50th Annual Alexandria Forum at the George Washington Masonic National Memorial, 101 Callahan Drive. Under the sponsorship of the Historic Alexandria Resources Commission, this year's Forum will focus on the decorative arts in 18th and early 19th century Virginia.
Registration commences at 6:30 p.m. Friday followed by the opening lecture at 7 p.m. Registration will continue Saturday beginning at 9 a.m. Cost of the Forum is $150 per person which includes four lectures, a champagne and dessert reception, coffee break, box lunch, and a ticket to the TWIG Historic Alexandria Homes Tour on Saturday Afternoon, Sept. 27.
Independent scholar, Ellen Donald, will present the keynote address Friday evening on the topic "Consumer Choices in Federal Virginia," highlighting "what consumers were buying in early 19th century Alexandria." Her presentation will be followed by a champagne and desert reception at 8 p.m.
Saturday's program gets underway at 9:15 a.m. with Alexandria Archaeologist Barbara Magid offering a presentation on "Alexandria Pottery: An Archaeological Perspective." That will be followed at 10:45 a.m. by costume and textile specialist, Newbold Richardson's lecture, "Suiting Early Federal Virginia."
The Forum's fourth and final lecture kicks off at 11:45 a.m. with Betsy Davison's "Loyalist Reflections in The Back Country: The Inlay and Inscriptions on John Shearer's Furniture." Davison is the guest curator for the upcoming Shearer Exhibition at the Daughters of the American Revolution Museum. The afternoon is set aside for the TWIG home tour with a box lunch.
For additional information or to purchase tickets for both or either the Museum Gala or the Forum, call the Office of Historic Alexandria at 703-838-4554 or visit <a href=http://www.historicalexandria.org> www.historicalexandria.org</a> and click the "Shop" link. Their offices are located at 220 N. Washington St.