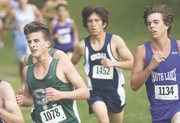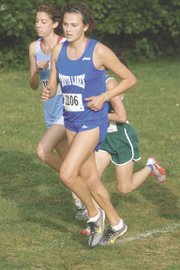 The South Lakes High girls' cross country team received a solid showing from junior Val Moyer at last Saturday's Oatlands Invitational races in Leesburg. Over one hundred schools were represented at the spectacular, mid-season event.
Moyer, competing in the varsity girls' 'B' race, finished 40th overall in a field of 337 runners. Her time on the hilly, 5K course was 21 minutes, 30 seconds.
"I was really trying to break 21 minutes and maybe [earn a top 25] medal," said Moyer, her team's No. 1 runner this fall.
She said competing in the Oatlands race was a great experience, with the vast field of runners coming from both around and outside the metropolitan area.
"I think it's real exciting to race in a big meet," she said. "its good competition and you can always find someone as fast. [Oatlands] has become one of the biggest races on the east coast. It's so exciting and so close [geographically] to us."
The South Lakes girls have struggled in the Liberty District in recent years. But Moyer believes the Seahawks can improve this season.
"I expect that we won't finish last in the district like we have the last few years," said Moyer. "We've been pretty motivated and have some pretty good young girls."
<b>FOR THE SOUTH LAKES BOYS</b>, sophomore Will Sickenberger (17:47) was the Seahawks' top team finisher in the varsity boys' 'A' race at Oatlands. The Seahawks' second and third team finishers were sophomores Nick Guarnaccia and Kevin Muir. Rounding out the top seven for South Lakes were junior Steve Zaboji, freshman Fred Kyle, sophomore Andrew Reinhold and sophomore Alex Clough.
<b>The team champion</b> in the 48-schools' varsity boys' 'A' race at Oatlands was Oakton High School (133 points) out of the Northern Region. The Cougars finished ahead of runner-up Robinson (165 points, Northern Region) and third place Potomac Falls (216), out of Loudoun County. Clarke County (328, Berryville, Va.) was fourth and Gonzaga High (331, D.C.) was fifth. The individual 'A' race champion was Tyler Stutzman (15: 44) of Western Albemarle High (Crozet, Va.). The top Northern Virginia-area finisher was Jared Berman of Robinson.
In the varsity boys' 'B' race, Thomas Jefferson High (Alexandria) was the team champion with 29 points. Saratoga Springs (N.Y.) was second with 117 points. Top local team finishers in the 59-team race were Herndon High (5th place, 261 points) and Briar Woods (8th place, 356). The individual champion was Demetri Goutos (16:35) of Saratoga Springs, who finished ahead of Thomas Jefferson runners Alex Witko (2nd, 16:49) and Logan Gates (3rd, 16:56). Also for Jefferson, Timmy Galvin was fifth overall and James Wu was seventh. Westfield High's Jack Canatsey was sixth.
<b>ON THE GIRLS' SIDE</b>, Saratoga Springs was the 'A' race team champion with 33 points, finishing ahead of second place Brentsville (Nokesville) with 206 points and third place Oakton (218). Other area teams finishing in 20the top 10 of the 37-team race were fourth place Osbourn Park (Manassas) and 10th place Potomac Falls.
Jefferson High, meanwhile, was the varsity girls' 'B' team champion with 52 points. Other area teams to finish in the top 10 in the 47 school race were Westfield (fourth place), Briar Woods (fifth), Yorktown High (seventh) and Centreville (10th). Rachel Grochowski of Chantilly High was the individual champion with a time of 19:43. Jefferson runners Stephanie Marzen, Sarah Stites and Katherine Sheridan finished second, third and ninth, respectively, while Briar Woods' Giana Leone (eighth) and Yorktown's Lindsey Hunt (10th) were also in the top 10.
It was a picturesque, autumn day at Oatlands on Saturday. Thousands of spectators attended the event, which began at 9 a.m. Four JV races were held in the morning, two boys and two girls. Later in the morning, the four varsity races began, carrying into the afternoon. The 'A' races, for the most part, consisted of the higher caliber runners. Following all eight races (JV and varsity combined), a brief awards presentation took place at around 2:30. Top 25 finishers in each of the races earned medals.
There were 101 teams (compared to 73 last year) and 4,300 runners on-hand for the meet, which has become known as the second leg of the triple crown of Northern Virginia area high school cross country.
The Oatlands extravaganza is considered the largest high school meet in Virginia and one of the largest on the east coast. Most of the meets' teams were from Virginia, but guest schools from New York, Pennsylvania, North Carolina, West Virginia, Colorado, Maryland and Washington, D.C. were also participants.
The host schools for the Oatland Invitational were Loudoun County and Freedom (South Riding) High Schools of the Dulles District. The meet organizers were Matt Oblas of Freedom and Derek Farry of Loudoun County.
The mostly grass running course, a 5K layout on the grounds of the historic Leesburg site, was a challenge for most all of the runners. There are several excruciating hills following the first, relatively easy mile. The near picture perfect course setting includes some wood trails and a couple of creek crossings.