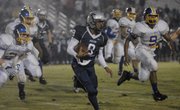 Every Wednesday, the South County football team stages a competition. It's the team's offense against its defensive counterparts and the stakes couldn't be more important: the winner gets first crack at Thursday night's team dinner, which includes pizza and pasta from Pizza Hut.
"Most of the time the defense wins," coach
Pete Bendorf said.
Though two days late, Bendorf's offense earned something much tastier than a slice of pizza. The Stallions, facing a 10-point deficit deep into the fourth quarter against Lee on Friday night, rallied to score two touchdowns in 21 seconds and walked away with a 27-23 home win.
"You just keep practicing [the two-minute offense]," Bendorf said, "and you just keep teaching it for those moments."
With 2 minutes, 6 seconds left in the game, Lee's Boris Perez booted a 23-yard field goal to put the Lancers (1-4, 0-2 Patriot) ahead, 23-13. The field goal, for the time being at least, seemed to put an exclamation point next to an impressive night from Lancers running back Jazmier Williams, who ran for 191 yards and three touchdowns.
<b>BUT WITH HIS KICK</b> return team about to step on the field, Bendorf called everyone together and made a prediction. He assured his team that it would score again, recover an onside kick and at least have a chance at a second scoring opportunity.
"Our kickoff return team was out there, and I said to them, 'We're going to score. We're going to onside kick the ball and we're going to get the ball back,'" Bendorf said. "Of course you say that, but in the back of your mind … what are the chances of that happening?"
After a 26-yard touchdown run from Eric Dorsey (14 carries, 59 yards), South County recovered the ensuing onside kick. However, as he became entangled in the mix of bodies and unavoidable collisions, South County's Charles Meyers was injured.
Meyers was carted off the field on a stretcher and taken to Inova Fairfax Hospital. No immediate information was available on his condition, though he was able to raise his right fist in the air in acknowledgment of a chant bearing his last name.
"We were like, 'OK, it's time for us to bite down and knock the crap out of everybody. Just go full out," Dorsey said of the 30-minute break. "So coach [Bendorf] thought the smartest thing to do was for us to go deep the first try and it worked."
After an incompletion, Bendorf called a play titled "switch," which, as it turns out, was appropriately titled. With two receivers split to each side, the basic concept was for the two inside receivers to run deep and toward the sideline and for the inside receivers to run inside of the hash marks.
As the safety rotated to pick up the outside receiver, senior wide receiver Kevin Taylor-Sakyi came free over the middle.
"Even when we got the onside [kick], I felt comfortable that we were at least going to get into field goal range," said Bendorf, whose team improved to 3-2 overall, 2-0 in the Patriot District. "I figured we would complete a ball but that thing popped right open."