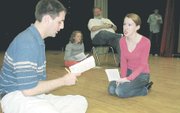 The Sterling Playmakers are deep in rehearsals for the play, "Flowers for Algernon," which will run Nov. 7-16.
The show times are Nov. 7, 8, 14, 15, at 8 p.m.; Nov. 9 and 16, at 2 p.m., at the Sterling Middle School, Holly Avenue in Sterling. Tickets are $12. Call 703-437-6117 or go to www.sterlingplaymakers.com.
PRODUCED BY James Wood and directed by Terry Nelson DiMurro, the story follows Charlie Gordon, a mentally challenged man, and the interweaving of his life with Algernon, a mouse. After having experimental surgery, Charlie's intelligence increases, causing him to become a genius. Just as this is happening, Algernon starts to regress. The play becomes a race against time in which Charlie tries to maintain his intelligence and continue his relationship with Alice, his teacher with whom he falls in love.
In the movie version, Cliff Robertson won the Academy Award for best actor in 1969 for playing Charlie.
"I consider it a good play that it's something that is topical because it does deal with modern science, which actually this could happen," DiMurro said. "It's a play to make the audience think as well as enjoy it."
Her directing philosophy is to put together a good-quality, entertaining show. "But at the same time I want to make sure the cast and crew enjoy themselves," she said. "Nobody's getting paid. So if it's not fun, why bother doing it?"
Playing the role of Charlie is Justin Fox, 27, of Ashburn. An engineer with a Ph.D. from MIT, Fox works for Orbital Science Corp. during the daytime. He's doing live theater because, "It's great to be out in the community where people have varied interests and diverse outlooks on life."
He describes the Charlie character as a mentally challenged man with under-developed emotions who becomes a super genius for a short time. "He's child-like the way he reacts to people," he said. So he's working on trying to understand how that person would feel in the situation.
FOX'S WIFE Corinne, 24, is playing two characters in the play — Ellen and Norma, who is Charlie's sister. "I think the challenge will be in keeping it platonic — embracing brother and sister and being platonic and not romantic," Corinne Fox said.
A staff administrator at Orbital Science, she said she enjoys community theater for it being low-pressure and fun. "We're not trying to make money off it. We're not here to become stars. We're here to have fun," she said.
Ellen Cranley, 12, of Herndon, plays Jackie Welberg, a woman in her 30s, who paid for Charlie's experiment. "I feel like I get to act older as an adult," Cranley said. "It's a lot of fun trying to act mature without laughing or smiling."
A seventh-grader at St. Joseph's School, she said she's been in three plays thus far and "loves how everybody comes together and puts on a great production …. And the look on everyone's faces after the play."
Joe Campanella of Leesburg plays the role of Professor Nemur, a cold scientist who developed a medical procedure that can increase intelligence. He cares more about Charlie's experiment than the subject.
He said, "I find the challenge is creating the cold-hearted character. I have to play somebody. I have to keep thinking in my mind, Nemur will be thinking about the experiment. How is the experiment going? Is it working?"
Campanella, who's been with the Sterling Playmakers for 10 years, has acted in 40 plays. "I'm here with friends hanging out and having fun. We're doing something for the community that people like and making our mark as a source of family entertainment …. But it never feels like work."
TY SHEEDLO, 15, of Sterling, plays the role of teenage Charlie. "I get to do a lot of pantomine because Charlie doesn't talk much," he said. "I have to make my actions a lot bigger than I'm used to."
Having acted in 15 plays, what he enjoys most about community theater is, "You get to meet a lot of new people, and it's not just confined to people your own age," he said.
Heather Benjamin, 31, of Alexandria, plays the role of Alice, Charlie's teacher whose relationship changes once Charlie's I.Q. improves.
"Their relationship becomes more of equals," she said, which is a challenge for her. "A lot of that is the passage of time, so you have to fill in the blanks of how things have changed between the scenes."
Having already acted in 30 plays, she enjoys community theater because, "Everybody wants to be there and nobody's getting paid …. It's the feeling of 'Let's do a show,'" she said.
Beth Robertson, 46, of Gainesville, is one of the original founders of the Sterling Playmakers, having produced or acted in 60 shows in 13 years.
She plays Mrs. Feldman, the Chairlady of the fund-raising committee and Mrs. Nemur.
What she enjoys is the opportunity to work with people who have never been on stage before as well as with seasoned actors. With its "niche" being family entertainment, she said what community theater does best is use public schools and brings the community into it. "It uses community resources to the best of our ability."
She adds: "I absolutely love [acting]. What better pastime can you be the heroine, villain or a member of the chorus. You can be as involved as you want to be."
"Flowers for Algernon" is based on the short story and novel by Daniel Keyes. It won the Hugo and Nebula Awards for science fiction writing.