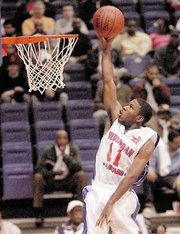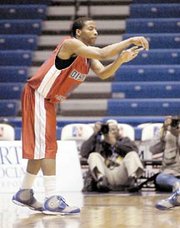 Guard Marcus Rouse of DeMatha, the No. 7 high school team in the entire country according to ESPN, was coasting down the court for an easy layup during last Thursday's Suburban vs. District All-Star game as part of the 36th annual Capital Classic at American University's Bender Arena, when flying out of nowhere came 5-foot-9 T.C. Williams star Edward Jenkins to swat his shot away.
Jenkins played to the shocked crowd a bit, posturing over Rouse to soak in the moment. It was fitting since the undersized guard has made a high school career out of playing catch up to more heralded foes only to end up on top.
And although his suburban team lost, 113-104, the end result was more about Jenkins and his pursuit of continuing his basketball career at the Division-I level in college. Despite leading the Titans to a litany of achievements — 71-consecutive Patriot District wins, four-straight district titles, three-consecutive region titles, and one state title — as well as being recognized as this year's Northern Region Player of the Year and an all-state selection, Jenkins is still uncertain on where he will take his basketball talents next season.
"He's definitely a Division-I basketball player, it's just unfortunate he's trapped in a Division-II body," said T.C. Williams coach Julian King, who coached Jenkins in the Capital Classic and played Division-I basketball at Temple and Coppin State during his playing career. "It's a shame some coaches won't give him a second look because of that. Everybody has their preferences for what size guard they want, but you can't make up for heart."
<b>THE ALL-STAR GAME</b> circuit is an important time for players like Jenkins, who averaged 21 points, five rebounds, and five assists as the senior leader during T.C. Williams run to the state quarterfinals.
Not only do college coaches get to see players go up against some of the best competition around, the players themselves can get a glimpse of just what it will be like once they arrive on campus. Everyone taking part in last week's Capital Classic was the best player on their high school team, which means sometimes the biggest adjustment is finding a niche amongst all the talent.
"It gives me exposure for new things," said Jenkins, who finished with 13 points in the game. "There's new players, so you have to step up your game even more so to compete at this high level. And this gives me looks, more looks for colleges."
Jenkins currently lists interest from Division-I schools like Winston-Salem State and Liberty and Division-II programs Mount Olive, St. Andrew's, and Virginia Wise. At this late of a date, chances are he ends up going the Division-II route.
For now, though, Jenkins says he's just going to focus on getting his grades up and working out with King during the offseason so that whatever school he ends up at, he'll be best prepared to prove all the doubters wrong.
"I just like being here, playing the game," Jenkins said as he mingled with other top players from the area. "I'm trying to push for D-I but I'll take whatever I can get."
<b>EPISCOPAL'S GIVEN KALIPINDE</b> has no such worries. He's been signed on to play college basketball for Division-I Loyola-Marymount since last summer. As part of the district all-stars, Kalipinde was able to take it all in and enjoy the benefits of having such a strong year for the Maroon.
After leading Episcopal to a state title in soccer in the fall, the multi-dimensional Kalipinde averaged 22 points, nine rebounds, five assists, and four steals on the basketball court, taking home first team all-State and first team all-IAC honors in the process.
Originally from Lusaka, Zambia, Kalipinde came to the Alexandria boarding school last year and will stay in the area to work out with coach Jim Fitzpatrick this summer before heading off to the west coast to begin his college career.
"You get to have a lot more fun at all-star games," said Kalipinde, who scored eight points and grabbed eight rebounds in the high-scoring affair. "You come out to win, but you get to see highlight reel dunks and kids making good plays. It's all about having fun and that's the best part about it."