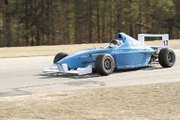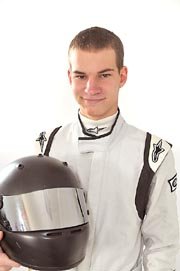 What does 18-year-old Barrett Mertins of Alexandria have in common with the late Hollywood icon and princess Grace Kelly?
Their lives were changed by one simple trip to Monaco.
And while the Bishop Ireton graduate won't likely grow up to be Monte Carlo royalty like Princess Grace, Mertins has seen a blossoming racing career sparked by a trip to the European principality.
Upon his graduation from the Alexandria high school, Mertins' father, Helmut, took Barrett along with his brothers to a Formula 1 race in Monaco. The color, pageantry, and speed of the event stirred some passions deep inside the youngster, prompting him to pursue his racing dreams once he returned to his Virginia home. Fast forward to next weekend, April 24-26, when he will take another step toward becoming a professional racer as he competes in the Formula BMW Americas Championship event at Virginia International Raceway.
"I started watching Formula One four or five years ago with my family," Mertins said. "Then for my graduation, my father took us on a trip to Monaco for the F1 race and it was by far the coolest thing I had ever seen, so we started karting when we got back. We did some research and saw that the Formula BMW Championship was a good series and seemed like the best place to start."
<b>THE ENTRY-LEVEL</b> open-wheel series is one of the top junior circuits in the world, with drivers piloting Indy-style cars on some of the nation's most challenging road courses. The series caught his father's eye while on a trip with his wife to celebrate their 25th wedding anniversary and spurred the family to put a call in to Eric Jensen, who owns and operates teams in a number of junior open-wheel championships.
"We went to Singapore and saw that the young guys were racing hard and it looked like a very organized and professional series," said Helmut Mertins, who jokes that his only racing experience came as a youngster on the German Autobahn. "We've done a good bit of testing and he's been showing some aptitude for driving, so we are happy with the way things are going."
Jensen, who raced competitively in the CART Toyota Atlantic Series, has seen his share of open-wheel hopefuls come and go in his time as a team owner, but was impressed right away with the desire that Barrett showed in wanting to become a racer.
"Barrett is a terrific story for the Formula BMW concept," said Jensen. "Without any experience, Barrett's plan was to participate in private test days in 2009, with a view to competing in the 2010 Formula BMW Americas championship. So we organized a test day at Sebring, Fla. with one of our Formula BMW cars in January 2009. Barrett did a commendable job in his initial, showing many of the attributes of a successful race driver. Thereafter, I advised Barrett that with a comprehensive pre-season testing program that he would be able to be competitive in the 2009 Formula BMW Americas championship."
<b>BARRETT THEN</b> set off on a rigorous schedule that saw him participate in 14 days of testing throughout the late winter months. Learning and progressing at each test, Mertins was on par with many of the other drivers in the program, and found himself last month strapped into his Formula BMW race car on a track in Puebla, Mexico, waiting for the starting lights to signal the start of his new career.
"It was my first race ever in anything and I was breathing like I had just run a 10-mile race," Mertins said. "You're watching the lights and it seemed to take 10 minutes for the lights to go off, but you're concentrating so hard on getting the start perfect and make up some spots that you don't really have time to think about anything else. Once the race started, I was having a great time. The speed and knowing that you are just on the edge of control, while competing side-by-side with other drivers; trying to find an edge and get the victory. That's what does it for me."
Mertins finished in the top 10 in his first race at Puebla, and is looking ahead to next weekend's doubleheader event at VIR for a chance to continue his progress.
"We tested at VIR four of five weeks ago and it is probably one of my favorite tracks," said Mertins. "It's very technical, it has a lot of blind corners where you have to make sure you have the car in the perfect spot. It has a lot of different types of corners and is very challenging."
The Formula BMW Americas Championship runs 14 events over the 2009 campaign with the stop at VIR being the third and fourth races on the calendar. The season is slated to wrap up at the end of August at Mosport International Raceway in Canada, and Jensen firmly believes that if Mertins continues to progress at the pace he has shown, he could be a contender by the end of the year.
"Barrett responded exceptionally well to our training program, and it was rewarding for all involved to see him run competitively at the first season race where he was consistently as quick or quicker than many other drivers with years of experience," said Jensen. "We are all excited to see how much more competitive Barrett can be this season, as he continues to develop his skills at a very rapid pace."