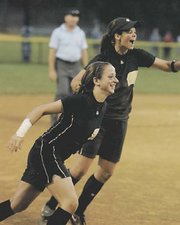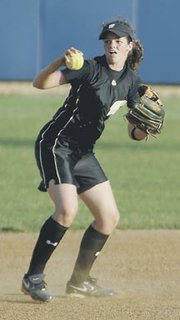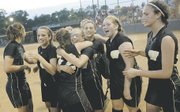 The music blasted from the back of assistant coach Eileen Hannigan's Ford Escape, backed all the way up to the fence near the third-base dugout of Westfield's softball field. Tara McCrone, having just completed a conditioning drill, stood on third base, dancing to the blaring music on Hot 99.5 FM.
With his team in the midst of a three-game losing streak at the time, coach Dean Ferington, sporting a black Westfield pullover, dark sunglasses and nothing resembling a smile, walked toward the entire scene prior to practice this past Monday afternoon.
"I'm not like this," Ferington admitted. "This is totally different for me."
The concert-like atmosphere came at Hannigan's suggestion during the pre-practice period where Westfield's players stretch out, run sprints and complete an abdominal workout. It's a period of time that Ferington uses to wear out his players, forcing them to fight through tiredness to simulate those scorching postseason games in late May or June.
And while Ferington has yet to download any T-Pain ringtones onto his cell phone, he recognizes the effect that this looseness can have on his team, especially one that is filled with underclassmen and saddled with the expectations of repeating last year's Northern Region title.
"We try to keep it a little bit looser for them, give them a little bit of time to enjoy it, and then we'll get to work," said Ferington, whose team suffered losses to Madison, McLean and W.T. Woodson during Madison's Spring Break Tournament, erasing an undefeated start. "They work pretty hard."
<b>WESTFIELD HAD</b> nine first-time varsity players on last year's 16-11 team, which lost in the district semifinals to Robinson but eventually reached the region title game and beat Herndon, 5-4. This year, the Bulldogs have 11 returning players from that team and have added only three new faces.
The team cruised early, winning six straight games by an average of nearly seven runs per contest before hitting a three-game slump over the break. During the slump, Westfield's mental approach wasn't what it once was, according to several players.
"I don't think everyone was mentally there," said junior center fielder Kasey McMahon. "Everyone learned from the [losing streak]. Everyone wasn't intense, and I think that we all realized it. That's the main thing. Now we have to change it."
"I don't think we were focusing enough on the games," added sophomore shortstop Jess McNamara. "We had a lot of other things on our minds, and maybe we don't understand yet that we have to prove that we're the best this year in the region. We have to work a lot harder."
"It's definitely a lot of pressure, but it's one of those things that drives us and motivates us to do well each game, even if it's during a tournament," McCrone, a junior outfielder, said. "We want to make sure we play our hardest because we get looks at girls that we probably will face in regionals."
<b>SEVEN RUNS</b> spread over four games. That's what Westfield accumulated during the tournament at Madison. In the four games prior, Westfield totaled 43. Needless to say, the collective hitting approach Westfield took during the tournament differed from that over the rest of the season.
With the loss to W.T. Woodson coming on Monday, April 6, Westfield took the latter part of last week off before resuming practice this past Monday. Ferington hoped the extended vacation might enable some of his players clear their mind or work their way out of a slump.
"Hopefully they took a few days to collect themselves and take some of the things we talked about to heart and got some things figured out," said Ferington, whose team's game against Fairfax Tuesday night was rained out. The Bulldogs will host Chantilly on Friday night.
Ferington also praised the work of his two pitchers, Jen Goodman and Alex Tenney, a point that may be overlooked by the fact that Westfield has allowed an average of 3.67 runs per game this season. But 12 of those 33 runs came during the three-game streak.
"Last year was a totally new group of kids, and we snuck up on people," Ferington said. "There's no sneaking up this year."