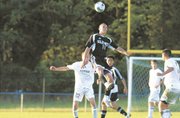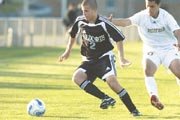 With a 1-0 upset of last spring's Virginia AAA state runner-up, the Robinson Rams, on March 30, Centreville's boys' soccer team was dreaming big. A Concorde District title? No problem. Northern Region final appearance? Got it. World Cup? Well, maybe.
What that victory over Robinson did not do, however, was get the Wildcats thinking about the arduous route needed to arrive at all of those places, which started with a match against Westfield two days later and ended with a 4-2 letdown.
"Once we beat Robinson, we basically thought that we could compete with anyone, and I'd say at times we got a little too confident," said junior midfielder Calder Street, who netted the game-winner against the Rams. "Anyone can beat anyone in this district. Just because we beat one top team doesn't mean we're gonna get easy wins for the rest of the season. I think the Westfield game kinda speaks for itself that way."
The Westfield loss notwithstanding, Centreville has had a fine season thus far, especially considering the fact that its schedule looks more like a set of rankings, with matches against South County, West Springfield, W.T. Woodson and Stone Bridge before the Robinson upset.
South County didn't allow a goal until its seventh game this spring and Stone Bridge claimed last year's Northern Region title, while both W.T. Woodson and West Springfield are perennially strong programs.
"We had the same [schedule] last year, and we know that in order to get better you have to play the better teams," said second-year coach Brian Cochran. "The kids come into games, and they're very confident in what they can do and how they can win."
<b>THE REASONS</b> why Centreville was able to upset Robinson and start its season at 3-3 are many, with the dominant midfield play of Street, the return and development of senior Paul Portal and the secondary scoring added by senior Jacob Lawrence and junior Pat Luke chief among them.
First Street. It's hardly a secret that the most important part of a soccer field is in the middle, where players like Street are counted upon to gather the ball from the defensive zone, and, while not committing a turnover, distribute pinpoint passes to the team's forwards.
Most of Street's passes connect with Portal, who missed last season because of academic issues. At 5-foot-9, 220 pounds, Portal is built more like a fullback than a forward. And he spent the early part of this season performing like an actor.
"At the beginning of the year, he was diving and trying to get the call, and he got a couple of yellow cards for it," said Cochran, whose Wildcats will travel to Fairfax on Tuesday. "We had to get it in his head that he's a big guy, and when a little 100-pound kid comes to knock him off the ball and he falls down, they're not gonna give him the call."
After that talk, Portal caught fire, scoring two goals this season -- one during the loss to Westfield. Teams have even sent as many as three defenders at a time to mark Portal, freeing up his teammates. Besides Street (team-high three goals) and Portal, Lawrence and Luke have provided a consistent stream of offense with two goals apiece.
"We know we can play well, we just don't seem to always reach our potential," Lawrence said. "Most of our players are seniors, and they really want to finish out their high school career well. I think we can win the rest of our district games and even go to the district final. I think we have the skill to do it, we just need to execute."