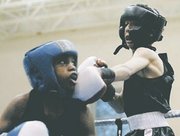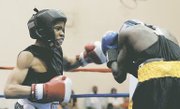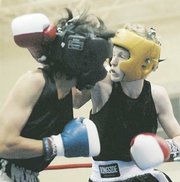 There has been much made in the past week with the official retirement of Oscar De la Hoya that the death of American boxing is finally here. A Mexican immigrant turned American citizen, De la Hoya was the last great United States Olympic gold medalist turned world champion remaining, according to most boxing experts.
Nowadays, Europeans or Latin Americans dominate almost every major weight division, while the few United States stars left are aging or fading fast. Most experts say a lot of youths who used to get into boxing now choose the fast-rising sport of mixed martial arts that is more prevalent on television.
But at Barcroft Sports and Fitness Center in Arlington Saturday night, that talk seemed a bit overblown as some of the area's best and brightest up-and-coming boxers went at it as part of the Virginia Junior Olympic State Championships in front of about 200 fans.
Youths ranging in age from 8 to 16 took part in the event hosted and won by the Arlington Boxing Club. For those younger than 13, taking home a state championship was the culmination of months of training. For those 13 and above, they move on to a regional tournament in Maryland next month. If they win there, it's on to a national tournament in Marquette, Mich., later this summer.
Clubs from as close as Alexandria and as far away as Richmond and Norfolk were on hand for the annual event.
"They trained really hard for this," said Willie Taylor, the event organizer and head of the Arlington Boxing Club. "I'm really proud everyone got to show what they were capable of."
<b>BECAUSE THE NUMBERS</b> for boxers in Virginia are relatively low compared to other states, Saturday's state championships take just one night, whereas they may take a few days in other places, according to Taylor.
For many, though, Saturday also represented the first time boxing in an actual match. Keianno Costeco of Arlington Boxing Club was a prime example of the range of emotions for the newcomers. Trailing after two rounds of his 110-pound bout in the 13-14 age group, Costeco landed a big punch in the third and final round to score a TKO.
"A knockout in your first-ever fight," said teammate Akram Abudleer. "Wow."
Abudleer was one of the few who could say that from experience. An eighth grader at H.B. Woodlawn, Abudleer started boxing three years ago after watching the sport with his Dad.
He found out Arlington had a boxing club and wanted to be like his two favorite boxers, Muhammed Ali and Floyd Mayweather, and Saturday had some hardware to show off after capturing the state title in the 85-pound weight class of the 13-14 age group, defeating Traveia Carpenter of Norfolk on points in a tightly contested, back-and-forth affair.
"My coach told me I had to win the final round to win the match," said Abudleer afterwards. "It was nerve wracking."
Other state champions from Arlington included 14-year-old Wakefield student Liam Thornbill, who captured the crown in the 125-pound weight class of the 13-14 age group, and Johnathon Ramirez, who defeated his cousin, Bryan Varges, in the 95-pound weight class of the 11-12 age group.
<b>ALSO IN ATTENDANCE</b> was Arlington County Board Chair Barbara Favola, who handed out awards to the various winning boxers. "This boxing program has yielded so many positive results," she told the crowd in attendance.
This was the first year 8-year-olds were allowed to participate in the event, a rule change that has irked some who think the violence associated with boxing is too much for youngsters to separate from real life.
But there were plenty of precautions during bouts. Refs erred on the side of caution in matches that appeared too one-sided from the start and stopped bouts if a big blow was landed. Afterwards, ringside doctors checked the faculties of every boxer, win or lose.
"If a kid wants to box, they can do it," said Taylor, who has run the boxing club for 17 years. "It's better than them being out on the street. Most of my kids that boxed, it was their first time, so the program was pretty successful. We had a real good showing for inexperienced kids."