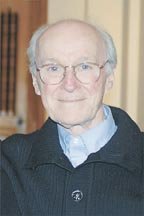 David J. Burke, a decorated veteran of the Vietnam War, died on April 13, 2009 at Stanford University Medical Center in Palo Alto, Calif. after a long battle with esophageal cancer. He was 75 and had been a resident of Alexandria for 30 years. He was a member of Good Shepherd Catholic Church in Mount Vernon, Mansion House Swim Club, and active with St. Anselm's Abbey School in Washington D.C. David is survived by his wife of 44 years, Anne S. Burke, his three children, David C. Burke of Atherton, Calif., Thomas C. Burke of San Francisco, Calif., and Elizabeth A. Burke of New York, N.Y., three grandchildren, Aidan, Caroline, and Charlie, and his brother Michael Burke of Saratoga Springs, N.Y. and sister Mary Fitzsimmons of Tequesta, Fla.
Born and raised in Saratoga Springs, N.Y., David was a graduate of Saratoga Springs High School (1951) and The College of Holy Cross (1955). He later received his MS in Business Administration from George Washington University (1967) and was a distinguished graduate of the US Naval War College (1974) in Newport, R.I. He served as an officer in the US Air Force from 1955 to 1981 and was awarded the Distinguished Flying Cross for an aerial mission over North Vietnam in July, 1968 and the Legion of Merit upon his retirement as a Colonel in 1981. He served with the Joint Chiefs of Staff at the Pentagon from 1974-77 and at Andrews Air Force Base from 1977-81. Following his Air Force career, David was the Director of Federal Government Policy and Procurement for Digital Equipment Corporation in Washington, D.C. from 1981 to 1991.
All who enjoyed the privilege of knowing David would agree that his love of family and friends defined his success much more than his professional accomplishments. He was an avid traveler with his wife Anne and their children, even in later years returning to Vietnam in 1994 and visiting China, Indonesia, Southeast Asia, and Europe several times. He loved spending weeks in Lake Tahoe, Calif. with his three grandchildren. He was an avid reader and correspondent. He was always generous with his time and friendship and often sought after for his sage advice and mentoring by family and friends. David's larger-than-life personality, genuine warmth, intellect, tenacity, and his sense of humor will be profoundly missed by all those whose lives he touched.
A memorial service will be held at St. Clements Roman Catholic Church in Saratoga Springs, N.Y. on Monday, April 20, 2009, followed by Full Military Funeral Honors at the Saratoga National Cemetery.