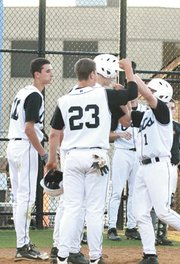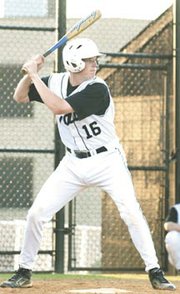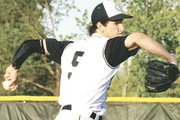 Centreville's Andy Viands thought his job was to move the runner over. Teammate J.P. Nicholas led off the third inning Monday night in a home game against Herndon with a double, and Viands, crossed up on a sign, squared around to bunt.
Viands' ill-fated attempt rolled foul, putting the junior second baseman in an 0-1 hole.
But what happened next may well be the sort of cosmic redemption that Centreville's baseball team has been enjoying during the second half of the 2009 season. The second pitch that Viands saw landed over the Merrifield Garden Center sign in right field, pushing the Wildcats' lead to 3-0.
Two hours and four minutes later, Viands' homer was one of several key ingredients in a 10-4 win for Centreville, which erased an 0-7 start by winning six of its next eight games. Four of those victories came against Concorde District opponents.
"I knew the situation was probably a bunt situation, and I guess it just paid off that I didn't bunt," said Viands, who entered Monday's game hitting .391 and upped that a bit by going 2-for-4 with three RBIs and pair of runs scored. "[Herndon pitcher Nick Impellizzeri] gave me a pitch I could drive, and I just happened to hit it hard."
"I'm glad he didn't get that down," said second-year coach Morgan Spencer. "He's been swinging the bat very well, and for a little guy he's got a lot of juice in his bat."
<b>ONLY ONE</b> of Centreville's first seven losses was by more than three runs, but that doesn't make any of them hurt less. The Wildcats were still very much in every game they played; they simply weren't getting that timely hit, or, worse, they would make a fielding error at precisely the most inopportune time.
The turning point, Viands said, came on April 7 with a 6-0 win -- the first of the season -- over Fort Dorchester during the team's Spring Break trip to South Carolina when Ryan Ashooh, a junior left-handed pitcher who has verbally committed to play baseball at the University of Virginia, tossed a complete-game gem.
Ashooh was at it again Monday night against Herndon. In a complete-game six-hitter, Ashooh recorded a career high 13 strikeouts to improve to 4-1 on the season. Of his 13 strikeouts, six came on called third strikes.
"I just tried to work ahead and finish with the breaking ball, mixing it in and out," said Ashooh, who throws in the upper-80s with a knee-buckling curveball and an effective changeup. "I just wanted to let the game take its pace."
Clearly the team's ace, Ashooh, who had 40 strikeouts and only 18 walks in 36 innings last spring, will be counted upon to give Centreville its best chance at victory every time he's fresh enough to do so. But what hadn't been counted upon as much was the team's clutch hitting, the type of hitting that Centreville practically boiled over with against Herndon.
After Viands' homer in the third, left fielder Will Fuka doubled and right fielder Connor Bach (1-for-4, two RBIs), who scored on a fielder's choice, traded places with him. In the fourth, Viands' two-out single scored center fielder David DeLorimier and a Herndon error helped catcher Kyle Hall come around to score in the fifth.
<b>A MONTH AGO,</b> those types of opportunities weren't happening for Centreville. In-between hops popped up just enough to make a fielder's job simple; hitters were just missing close pitches late in counts. Now, Centreville's players are cutting down on their strikeouts and are attacking the baseball instead of getting attacked by it.
During pregame batting practice on Monday, hitting coach Joe Carter noticed that Fuka's hands were a bit higher than they should be. So Fuka dropped his hands down a bit and yet another adjustment paid off for Centreville, as he finished 2-for-4 with a pair of doubles, an RBI and a run scored.
"That opened up a whole new sort of vision for me," Fuka said. "The whole feel just opened up, and that had a lot to do with it."
"We've had a much better approach at the plate for our last seven or eight games and it's starting to show," said Spencer, whose squad wasn't able to continue its momentum against Westfield (14-1) Tuesday night and suffered a 4-2 loss.
But the back end of Centreville's schedule is favorable. With Concorde District games against Herndon and Fairfax left, as well as an out-of-district matchup with Wakefield remaining, Centreville could very easily finish 9-10 overall, 6-6 against district opponents, which is a far cry from that 0-7 start.
"With us starting 0-7, I never thought we didn't have a good team," Spencer said. "I knew we had a pretty good team. I told the guys, 'It's all about how to you play at the end of the year,' and I think that once we got our first win, we got on a little bit of a roll."