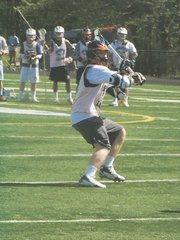 Plenty of reasons exist for the West Springfield boys' lacrosse team's 10-3 record this season, which also includes a 7-0 mark against Patriot District opponents. Unselfishness has been a big one, as 16 of the Spartans' 18 short sticks have scored goals, with seven notching double-digit totals.
The defense has been good, too. In only one game this season, an 11-7 loss to Loudoun Valley on April 6, West Springfield has allowed its opponent to score more than nine goals and five times an opponent has scored four or fewer.
But perhaps the most representative statistic cannot be found on the folded, white piece of paper that first-year coach Scott Settar pulled out of his pocket on Tuesday afternoon, April 28. More likely, it's something that a few players might have stopped off for on their way home -- a cherry Fanta Slurpee.
Despite playing as an attackman all the way until the summer between his sophomore and junior seasons, Andy McGregor decided, for the sake of his team, to take on what is one of the most thankless jobs in all of sports. He became a goalkeeper for his lacrosse team.
With former Spartan Stephen Vu and Vu's father, John Morrison, a former assistant coach at West Springfield, McGregor would line up a lacrosse net in front of the backstop at Irving Middle School and willingly get pelted with hard rubber balls that he had little experience stopping. If he stopped a predetermined amount of shots, the Slurpee was on Vu.
"There was a lot of motivation there and it made it fun," McGregor said.
This spring, McGregor has been a selfless microcosm of his team, which, in addition to winning the regular-season Patriot District title, has morphed into one of the Northern Region's deepest and most-successful lacrosse programs. The Spartans will look to further that reputation this weekend, as they start the district tournament with a matchup against West Potomac on Friday.
<b>WITH ONE</b> glance at the eight-column spreadsheet that Settar keeps, a lot can be learned about West Springfield's season. The Spartans have scored 139 goals on 88 assists. They've picked up 723 groundballs. McGregor has seen 205 shots and stopped 145 of them, a 71-percent success rate.
But take a closer look, and it's obvious that one number is missing: zero. Every player has some sort of statistic or relatable information next to his name, even if it's as small and seemingly innocuous as picking up 16 groundballs or recording a pair of goals. Everyone has contributed.
"Even if one or two guys are having an off day, there are seven or eight other guys who are willing to step up and take that spot," Settar said. "The guys, at the end of the game, have faith in one another and no one person feels that they have to take over a game. They're always willing to make that one extra pass."
The team's two leading scorers, Corey MacRae and Hunter Bragg, have been lights out this season, with 37 and 36 points respectively. Bragg leads the team with 25 goals, while MacRae is not that far behind with 24. Eric Schauder leads the team in both assists (19) and groundballs (69).
But none of the three has been a primary focus. The team's three senior captains, McGregor, Ben Myers and Hayden Angulo, all have middle-of-the-road numbers, but, as Myers pointed out, that could change at any moment.
"We don't have one guy who's scoring a ton of points every game, and that's really good for a team that's looking to go far, I think," he said. "I think anyone on the team would rather give another guy an assist rather than scoring a goal."
<b>WEST SPRINGFIELD</b> started its season with an 8-3 loss to Chantilly and followed that by winning a tight affair with Westfield (5-4), pounding T.C. Williams (18-0) and upsetting Annandale, 8-5, on March 30.
In the Spartans' spring break tournament, which they hosted, McGregor even got into the action. Early on during an 11-8 win over Broad Run on April 7, McGregor initiated an offensive rush, something Settar has told him to do if he's not under pressure.
"No one was running at me and it was pretty wide open," McGregor said. "It looked like people just stayed out of my way and let me run right to the goalie. I just shot it and it went in. I shot it from eight to 10 yards out. I didn't get touched. I guess they were surprised.
"I tried to 'YouTube' videos like that and see if there were any goalies that have done it before. I found two or three, but I think I might be the only Northern Region goalie thus far who has scored."
A slip-up against Herndon came next, but the Spartans rallied by winning their next five games, four of which were against district opponents. West Springfield ended its regular season with an 11-9 win over South County. That win, while satisfying because of its meaning, was not exactly aesthetically pleasing.
"We weren't fired up going into the game, and I think a lot of people overlooked South County," Angulo said. "We can't overlook teams."