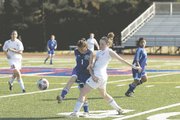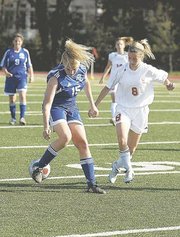 Turn on the NBA or NHL playoffs any night this week and a game-saving basket or goal will usually elicit a crazy, childlike celebration from a group of professionals being paid millions.
And yet all West Potomac junior Michelle Gilmore could do after teammate Gabby Katzbahn-Rush scored the game-tying goal with no time left on the clock last Friday night was lay down on the synthetic turf at T.C. Williams, exasperated that her Wolverines had once again narrowly averted defeat.
"We can't keep doing this last minute thing, ladies," she lamented, referencing a goal with 10 seconds remaining to defeat Hayfield, 1-0, back on March 31, as she prepared for the 10-minute overtime period Friday.
Quick glances to the bench can be deceiving, though. When Gilmore and Katzbahn-Rush took the field for the extra session, they left little doubt as to who would win, scoring two goals in a span of 40 seconds to give West Potomac an unlikely and dramatic come-from-behind 4-2 victory over district rival T.C. Williams.
Katzbahn-Rush got the Wolverines started in the overtime, collecting a pass from fellow junior Diana Nolton, and used her left foot to place the ball perfectly in the top left corner of the Titan goal.
It was her second goal in three minutes of play after she broke free behind the T.C. Williams defense and punched home the team's second goal with zeroes on the clock in regulation. Afterwards, Katzbahn-Rush admitted she had never scored multiple goals that quickly.
"I just really wanted it," she said.
Gilmore provided the finishing touches on the comeback when she collected the rebound of a Katzbahn-Rush shot and put it past the helpless T.C. netminder.
"You push it, you push it and you don't want the whistle to blow and I think that ref was kind of on our side on that last play," said Gilmore of the end of regulation. "We just kind of all put it all out there with everything we got because we had nothing to lose at that point."
<b>PERHAPS</b> the most surprising part of West Potomac's comeback was that it was able to muster four goals. In seven of the nine games the Wolverines have played thus far, they've registered either just one goal or been shut out.
That script seemed to be playing out Friday after junior Morgan Carter got West Potomac on the board early in the first half. But then T.C. Williams tallied a goal right after halftime and followed it up with 15 minutes remaining to give itself a lead it thought it wouldn't relinquish.
Combined with Tuesday's 2-0 win over Lee, the ensuing heroics late leaves West Potomac firmly entrenched in the race for fourth place within the Patriot District sporting a 5-4-1 record with just two games remaining.
Pacing the Wolverines throughout has been a talented nine-person junior class that makes up the core of the team.
"As they've gotten more experience, they've gotten more confident, but we still haven't gotten that consistent scoring punch," said coach Jean Coder.
As for the comeback effort from her team, a smiling Coder was simply relieved she walked off the field on the right side of things.
"I've had that happen to us before," she said. "I'm just happy we were on the winning end of it."