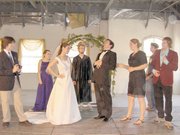 Bruce and Tina are getting married, but the napkins at their wedding reception are engraved, Bruce and "Tuna" — and that's only one of the many things that goes wrong at their nuptials. The bride's disapproving mother wears black, the judge performing the ceremony is drunk and a mysterious stranger dies in front of them.
All this and more is part of Woodson High's dinner-theater presentation of "The Wedding from Hell," Friday, May 1, at 7 p.m., and Saturday, May 2, at 12 p.m. and 7 p.m., in Old Town Fairfax. The audience is invited to the Main Street Marketplace, 3950 University Drive. Tickets are $18 for the performance and meal catered by a local restaurant. Tickets are pre-sale only and won't be sold at the door. See www.wtwdrama.org for tickets and directions.
The students are performing during the Fairfax Spotlight on the Arts festival, highlighting new and emerging groups and youth. They'll be doing so upstairs in the Old Town Village Plaza. Woodson's theater is currently under renovation, so Director Terri Hobson approached Jo Ormesher, cultural arts manager for the City of Fairfax, about a venue.
"I've been doing 'Art in Empty Spaces,' putting art wherever we have room, so I was thrilled," said Ormesher. "It makes sense and has been successful. It's the first time we've had a high-school play here, and I think it's absolutely marvelous and innovative. I'm glad they're using local businesses and I know the students will do well."
Playing the groom, Bruce Montgomery, is senior Brendan Rice. "He's a whiny, immature, mama's boy who doesn't know how to take care of himself," said Rice. "He's been taken care of, his whole life, by his 'Mummy.'"
Rice said it's "a blast" and takes consistent energy to portray someone so opposite from himself. "He's a spoiled-rotten brat, and is fun to play," said Rice. "I think I'd slap myself if I talked down to people and to my [real] mother like that."
As the bride, Tina Fitzhugh, senior Sara Persily is on top of things. Yet, the wedding's not going as planned, so she's stressed. "But as the play progresses, she turns out to be one of the more normal characters," said Persily. "And she has a nice relationship with her dad. He's embarrassing, at times, but she loves him and goes to him for comfort."
She said it was fun picking out her wedding gown, the first day of rehearsal. "The characters are big caricatures, so it's fun interacting with all these off-the-wall people," said Persily.
Senior Megan Kearney portrays Fanny, the maid in the groom's home. "She's OCD, so everything has to be incredibly clean and she has to be in control," said Kearney. "So she's emotional and over-dramatic. She's also in love with 'Mr. Bruce' and is obsessed with him. I'm excited. Since Fanny's really out there, I can do whatever I want with this role."
Kearney said the audience will love the show since "it's really fun and they'll get to participate and feel like they're a part of the wedding. It's the perfect mix of comedy and suspense."
Playing the bride's father, Jackie Fitzhugh, is senior Max Wollner. "He owns a prank store and pulls jokes on the audience, the entire show," said Wollner. "He's all about making people laugh. It's fun because Jackie's a lot like me. There are lots of curveballs in the story and the dinner-theater experience, so it's surprising and funny and will have the audience laughing, the whole time."
Carmen Esparolini and Kyle Craft were in charge of costumes, deciding what each character would wear. "My favorite outfit is worn by the groom's ex-girlfriend," said Esparolini. "It's a peach-colored, Southern Belle dress with frills on the sleeves and an empire waist."
Junior Nadine Tadros is assistant director, taking acting notes during rehearsals and portraying the wedding coordinator during the show. "I've always acted, so it's my first time doing this," she said. "I love getting to see things from a different perspective and knowing what directors look for so I can use it in my acting."
The show has a cast and crew of 45 and Director Hobson double-cast the show. "They're all wonderful, and it's a great experience for them to perform in a different venue," she said. "It's challenging because, the minute the audience walks in, they're at a wedding reception. There's music playing and the bride and groom are mingling, so they're in character, from the start — even at intermission."
Since it's an audience-participation, murder mystery, said Hobson, "Each table tries to solve the mystery. And the audience will love the interaction with the characters."