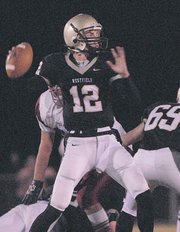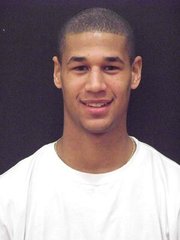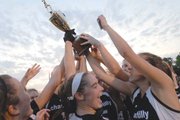 <b>Westfield High</b>
Mascot: Bulldogs
School Colors: Black and gold
Rivals: Chantilly, Centreville
Athletic Director: Frances Dall; 703-488-6400
Athletic Hotline: 703-488-6500
Famous Alums: Eddie Royal, Brandon Snyder, Evan Royster … Royal, a wide receiver, set Denver Broncos rookie records last fall with 980 yards and five touchdowns; Snyder is hitting .310 this season, which has included a promotion to Norfolk (AAA) within the Baltimore Orioles' organization; A redshirt-junior on Penn State's football team, Royster ran for 1,236 yards and 12 touchdowns for the Nittany Lions in 2008.
Notable Coaches: Tom Verbanic (football), Chuck Welch (baseball), Jim Bour (volleyball)
<b>Chantilly High</b>
Mascot: Chargers
School Colors: Purple, black and white
Rivals: Westfield, Centreville
Athletic Director: Terry Brown; 703-222-8161
Athletic Hotline: 703-448-4909
Famous Alums: Joe Koshansky, Scott Secules, Bhawoh Jue … Koshansky made his MLB debut for the Rockies in 2007 and is now with the Brewers; Secules played four seasons in the NFL (1989-93) for the Cowboys, Dolphins and Patriots; Drafted out of Penn State, Jue played in the NFL from 2001-07 but was cut the next year by the San Diego Chargers.
Notable Coaches: Jim Smith (boys' basketball), Matt Gilchrist (cross-country, track and field), Melissa Bibbee (girls' soccer), Mike Lalli (football)
<b>Centreville High</b>
Mascot: Wildcats
School Colors: Columbia blue, black and silver
Rivals: Westfield, Chantilly
Athletic Director: Jimmy Sanabria; 703-802-5416
Athletic Hotline: 703-761-7228
Famous Alums: Chris Hall, Will Montgomery, Lindsay Czarniak … Hall was a 2005 Ray Guy award -- given to the nation's top collegiate punter -- finalist at Florida State; Montgomery, a former Virginia Tech lineman, signed as a free agent with the Redskins in Dec., 2008; Czarniak took over for George Michael as the lead sports anchor at NBC-4.
Notable Coaches: Gerry Pannoni (football), Wally Horton (girls' basketball), Rich Ferrick (softball)
<b>How It's Structured</b>
The majority of Northern Virginia's public schools are members of the Virginia High School League. The VHSL is based in Charlottesville and is the largest governing body for prep sports in the state. Public schools are divided into three classifications of competition in the state: AAA, AA and A, with all schools in Fairfax Country representing AAA, the largest.
Four districts -- the Concorde, Liberty, National and Patriot -- comprise the Northern Region, which is one of four such classifications in AAA (the Eastern, Northwest and Central are the others).
This athletic season marks a significant change, too, for the Northern Region's landscape with Hayfield, Fairfax and W.T. Woodson all shifting districts. Hayfield will rotate from the Patriot to the National, with W.T. Woodson leaving the Liberty to fill in behind. In W.T. Woodson's Liberty slot, Fairfax will shift from the Concorde, which now only has six teams.
Here are the re-aligned districts for the 2009-10 athletic season:
Concorde: Centreville, Chantilly, Herndon, Oakton, Westfield, Robinson
Liberty: Stone Bridge, Langley, Madison, Marshall, McLean, South Lakes, Fairfax, Jefferson
National: Edison, Falls Church, J.E.B. Stuart, Mount Vernon, Wakefield, Washington-Lee, Yorktown, Hayfield
Patriot: Annandale, Lake Braddock, South County, T.C. Williams, West Potomac, West Springfield, Lee, W.T. Woodson
<b>What You Missed</b>
Although one evolved from two years of losing at the most crucial times and the other was more complete and utter shock, two separate, emotional outpourings occurred on Sunday, June 7 at Westfield High School when the Chantilly girls' lacrosse and girls' soccer teams became Virginia AAA state champions.
Given a chance to win some sort of trophy five times prior, coach Michele Gates' lacrosse team came up empty, often face-down in the grass. The girls' soccer team, meanwhile, had very little of those opportunities before this season.
But with coach Melissa Bibbee's arrival, combined with a talented senior class and a ton of returning starters, Chantilly upset Robinson in the Concorde District title game before steamrolling its way past Oakton in the region final and Mills Godwin in the state championship.
"You always have goals in mind," Bibbee said. "In my first year, we went to the region semifinals and lost to Robinson. Our message this year was, 'Look, we're returning almost everybody. We can do this."
Said Gates, "It was such a good release of tension to see them win and not have to worry about picking up the heartbroken lacrosse players again."
Of course those two aren't the only teams to pay attention to.
Anyone who's followed the Northern Region football scene knows what chaos a Chantilly/Westfield game can bring. The Bulldogs won state titles in 2003 and 2007, and the Chargers have made it a habit of winning big games against Westfield, claiming the 2006 region championship with a 26-21, last-minute win and eliminating Westfield in the region semifinals this past fall.
Volleyball has been another strong sport locally, with Chantilly and Westfield advancing to the state tournament this year. Centreville, too, has a perennially strong program. And with a strong batch of rising seniors, look for Chantilly to duplicate its success from 2008.
Basketball often enhances the rivalries here, with all three teams competing on a relatively level basis in both girls' and boys' hoops. Westfield's girls' team is coached by former Madison/O'Connell bench boss Pat Deegan, while Chantilly's boys' team, led by returning big man John Manning, went 22-1 in 2008-09.
In the spring, baseball and softball are often very successful as well, with Westfield and Chantilly combining to amass a 147-81 record over the past five years. The Westfield softball team won the 2008 region championship and Centreville lost a close game to South County, 3-1, this past spring.
<b>Save This Date</b>
Part of the ritual of moving to a new place is checking out the local high school football scene , or at least that's the way sports-obsessed folks think anyhow. So, this fall, make it a priority to watch two local teams on the gridiron.
Chantilly at Westfield, Week 7 (Oct. 23, 7:30 p.m.). Is it really necessary to debate or even explain why it would be a good idea to attend this game? Anyone who has certainly sees no need.