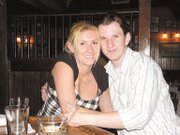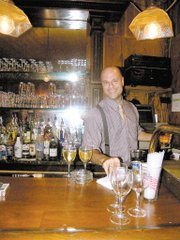 Since 1979, the Ice House Café has been a classy fixture of Herndon's nightlife. Featuring an Oyster Bar and live jazz and blues musicians, the unassuming brick building at 760 Elden St. that houses the café is also home to a great atmosphere.
"We have regular customers every single night of the week. All the time," said Dan Root, who has been the bar manager at the Ice House for 23 years. "The atmosphere is a turn-of-the-century saloon. … very warm, comfortable, inviting. Not threatening. It's very, very comfortable, like family."
Anya Sarnitskaya and Marco Botzong, who recently moved to Herndon from the Arlington area, have already been back to the Ice House more than once since they discovered it.
"It's just a very nice atmosphere here with the live music, with the jazz artists," said Botzong, who appreciates that there is no cover charge to come in and enjoy the live music. "When you combine that with the good food that's here it's just an overall very cool dining experience."
Botzong and Sarnitskaya both complimented the quality of the food at the Ice House Café, especially the oysters.
"Of course the oyster," said Botzong.
The Ice House Café describes its cuisine as "creative," boasting of its crab cakes, Veal Espresso and "mouth-watering" Paella Valencia in particular.
Musicians include jazz vocalist Donna Salter, the Mike Gellar jazz quartet and the Larry Brown piano quartet. On a recent Friday, the Ice House featured the Bob Meyers Trio. Botzong and Sarnitskaya raved about the quality of the music.
"There's nowhere else in Herndon or even in Reston for that matter, where you can go and hear live music of this caliber," said Botzong
"Or D.C," put in Sarnitskaya.
"They're very talented people," Sarnitskaya said. "You don't find these people anymore," she said, describing the café as a true jazz bar with a laid-back environment where the music was up close and personal, and customers could chat with the musicians. "The guy who played on the bass, his instrument is over 100 years old."
Musicians at the Ice House are usually from the Northern Virginia and Washington, D.C. area, with some coming as far away as Richmond.
"We don't have a cover charge, so we are limited as far as what we can bring, but they're generally very talented musicians, playing both jazz and blues," said Root, nodding. "Yes, we're bringing in blues now as well."
The recent change from only jazz to jazz and blues was in response to customer demand.