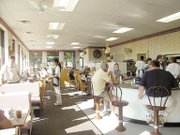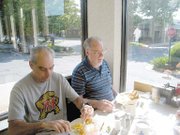 Sharan Frantz has been working at the Virginia Kitchen in Herndon for seven years.
"It's unlike any other job I've ever had, any restaurant you've ever been in to," she said. "Nowadays, there are so many corporations, it's nice to find an actual restaurant you can go to."
According to Frantz, the cozy hole-in-the-wall restaurant has become a sunny breakfast haven for its regular customers.
"They're more than just customers, they're friends, part of your family in a way," said Frantz. "You watch their kids grow up, you watch as things go on in their lives."
The Virginia Kitchen's menu, which is decorated with pictures of its smiling staff and their families as well as regular customers, boasts that it has been family owned and operated since 1973. Frantz said that the small staff of less than 20 still remains close. She praised the manager for his attentiveness and care for both the restaurant's staff and its customers.
"He knows most everybody's name," she said, and went on to talk about how it's the staff of the Virginia Kitchen that make it so special.
"With our staff that we have here it's like knowing that you can go somewhere and see the same people all the time," Frantz said. "The turnover at restaurants is usually very high. I've been working at restaurants for over 20 years now and I've never seen anything like this."
The Virginia Kitchen serves all three meals but specializes in breakfast, and serves it all day. Pancakes, waffles, French toast, biscuits and gravy — and all of them made fresh.
"You can't find that anymore. A lot of people commercialize everything," said Frantz, describing how the Virginia Kitchen's biscuits are homemade, not ever made from frozen dough.
"It tastes homemade," said Chris Bobula, a regular Virginia Kitchen customer. Bobula lives over the border of Herndon and Reston in Reston, and has been coming to the Virginia Kitchen twice a week for three years.
"I order the standard breakfast," he said. "Sausage, potato, eggs." Bobula described the Virginia Kitchen as steady and reliable.
"It's not commercial, like a lot of places around here," he said. "I like the atmosphere." He called that atmosphere homey and friendly.
Frantz called comfort an important aspect of the atmosphere at the Virginia Kitchen.
"A lot of the time, we see people coming in and we know what they want to drink, we know what they want to order, and within minutes after they're sitting at the table we have their food up for them. They don't even have to place their order because we already know what they want," she said. "It's comforting."
Former Herndon resident Dave Cook came to the Virginia kitchen ever week for eight years. Now living in Front Royal, he takes the opportunity of working nearby to stop in and have a meal.
"Their breakfasts are outstanding," he said, praising the fresh-squeezed orange juice in particular. "And it's very friendly."
The Virginia Kitchen is located at 450 Elden St., and is open daily from 7 a.m. to 3 p.m.