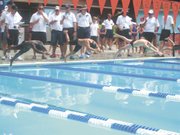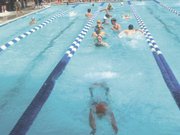 Spectators and coaches alike cheered wildly as 10-year-old Mattia Diop of McLean stepped up to the edge of the pool. He stared out at lane three through his airtight goggles, anxiously awaiting the start of the 50-meter breaststroke race. This was his event. He had been expected to win it all season. The problem was, this was the Northern Virginia Swim League (NVSL) all-stars meet; everyone he was racing against had been expected to win all season, too.
The buzzer sounded, and the competitors raced for the turn. Diop was no more than a nose ahead at the halfway point, the swimmer in lane four very much in the contest. With barely 10 meters to go, Diop glanced over. Was he still there? Right on his shoulder.
Diop poured it on for the finish. He slapped the wall, and immediately looked up at the time board. First place; he had done it. Diop leapt for joy, pumping his fist in the air.
The race may have been a close one, but tight competition has never scared Diop. He knows what he has to do to reach the wall first.
"I have to push harder," said Diop. "I like the competition, I always have."
<b>COMPETITION</b> is something the NVSL has plenty of. Close to 600 athletes were vying for medals at the all-star meet on Saturday, Aug. 1, and it required a huge effort from both the league and host pool Broyhill Crest to make sure everything ran smoothly.
"We give all our credit to the host pool first and foremost," said meet manager Jack Schaeffer. "They supply the majority of the manpower to put this meet on. They work tirelessly for months getting their pool ready."
The host pool's job is to prepare for the onslaught of swimmers and spectators. It is NVSL's job to select a good host, and make sure they know what goes into putting on such an event.
"You have to go through a process of actually applying to host a meet," said NVSL President Chris Loeser. "[Schaeffer] lets them know what kind of an effort it is and they go back to their board and say 'OK, are we willing to do this?'"
"Broyill Crest stood up to the task," said Schaeffer.
The host pool ran a smooth meet, helping the swimmers put on a show. The meet had it all; dominant individual performances, close races, and a few underdog stories.
When 12-year-old Connor Cason of Shouse Village stepped up to lane one for the 50-meter butterfly, he knew all too well about the boy two lanes to his left. Andrew Seliskar of McLean was the NVSL's fastest butterflier in the 11-12 year-old age group, and he was poised to prove that at the all-star meet.
Undeterred by Seliskar's reputation, Cason was in front through 25 meters.
"When I did my flip turn I saw I was up front a little bit," said Cason, still grinning with excitement as he recounted the race. "I just took it home from there. I just had to [go] as fast as I could."
Cason kept up the speed from the first length, and let out a "Yes!" as soon as he hit the wall. It was the NVSL David over Goliath moment of the day.
<b>BUT THE DAVIDS</b> of the sports world rarely come out on top. Amanda Kendall, 18, went into the NVSL all-star meet already the owner of the league's 50-meter butterfly record. The Kings Ridge swimmer closed the day having set the bar even higher in the butterfly, and captured the 50-meter freestyle record to boot.
"The freestyle was exciting because I broke a new record," said Kendall, whose last NVSL race was her record-setting butterfly swim. She also broke the 15-18 50-meter freestyle record that was previously held by Great Falls native and Yorktown graduate Katie Radloff "I know this is my last NVSL meet ever so, gotta go all out, you know? Leave everything in the pool, which I feel I've accomplished so I'm happy."
Arlington pools were also well represented at the meet. Dominion Hills had four swimmers race this past weekend, led by KJ Morris-Larkin's 15th place finish in the 8-and-under butterfly. Eric Weiner (16th, 10-and-under IM; 18th, 9-10 butterfly) and Charlotte Lewis (16th, 8-and-under breastroke). Abby Young qualified for two events at all-stars, but was unable to compete.
After winning NVSL's top division, Overlee also had a strong contingent at the all star meet. The highest finish was a second place medal scored by Michaela Morrison in the girls' 9-10 50 breaststroke. Morrison added a fifth-place finish in the 50 backstroke event. Overlee's other double medalists were Rachel Robertson, who had fourth place finishes in the girls' 13-14 50 back and 50 breast events, while Nicholas Pasternak had a pair of sixth place finishes in the boys' 9-10 50 free and 25 fly. The other Overlee medalists were Jonathan Day (4th in boys' 9-10 50 back), Ryan Baker (5th in boys' 11-12 50 back), and John Thomas Dolan (5th in boys' 8-and-under 25 free). The rest of the Overlee swimmers that swam at the All Star Meet were Timothy Aldinger, Lauren Allard, Katie Bennett, Sean Coleman, Megan Day, Suzanne Dolan, Tyler Gehrs, Kathleen Kinsella, Andrew Loranger, Izzy Pasternak, Kayla Rusby-Wood, and Kaitlin Wolla.