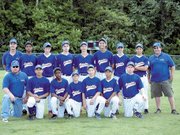 <b>Alexandria Little League</b>
The Alexandria Little League Juniors All-Star Team was one of 16 teams to compete in the Virginia Little League State Championship Tournament in Middlesex County, Va. from July 24 to July 29. The team is comprised of 13- and 14-year-olds from the City of Alexandria and they advanced from the first round to the quarter finals after defeating Tuckahoe (Richmond) Little League 3-2. In the quarterfinals Alexandria defeated Grottos Little League 6-4 to advance to the semi-finals. Alexandria was defeated by Warwick (Newport News) Little League in the semi-finals. Warwick went on to win the Virginia State Championship.
<b>Registration Starts Soon</b>
The City of Alexandria Department of Recreation, Parks and Cultural Activities' Fall 2009 Program Guide is now available. The program guide highlights Alexandria city classes, programs, activities and special events occurring September through December. Registration for fall classes and activities begin at 9 a.m. on Monday, Aug. 17 for City residents, and Monday, Aug. 24 for nonresidents. Individuals, who subscribe to receive the program guide by mail, should have received it Aug. 3 – 6. Individuals who did not subscribe can download a free copy by visiting www.alexandriava.gov/recreation or pick up a printed copy at the following locations:
* Office of Citizen Assistance, City Hall, 301 King St.
* Lloyd House, 220 N. Washington St.
* Charles Barrett Recreation Center, 1115 Martha Custis Dr.
* Chinquapin Park Recreation Center, 3210 King St.
* Cora Kelly Recreation Center, 25 W. Reed Ave.
* Dr. Oswald Durant Memorial Recreation Center, 1605 Cameron St.
* Jerome "Buddie" Ford Nature Center, 5750 Sanger Ave.
* Mount Vernon Recreation Center, 2701 Commonwealth Ave.
* Nannie J. Lee Memorial Recreation Center, 1108 Jefferson St.
* Patrick Henry Recreation Center, 4643 Taney Ave.
* William Ramsay Recreation Center, 5650 Sanger Ave.
* Barrett Branch Library, 717 Queen St.
* Beatley Central Library, 5005 Duke St.
* Burke Branch Library, 4701 Seminary Road
* Duncan Branch Library, 2501 Commonwealth Ave.