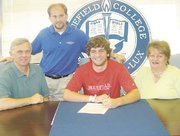 <b>Argy Makes Team</b>
Kim Argy, an Oak Hill native and Chantilly graduate, was recently named to the Colonial Athletic Association Silver Anniversary team for women's soccer. A James Madison graduate, Argy was a three-time All-CAA performer from 2002-05. She was also the conference's Rookie of the Year in 2002. Her career marks of 34 goals, 78 points and 15 game-winning goals are all top-five marks in school history. In addition to being named a freshman All-American in 2002, Argy was a two-time All-Region performer as well as a member of the 2005 National Soccer Coaches Association of America Scholar All-American team. As part of its 25th anniversary, the CAA is recognizing Silver Anniversary teams in 25 sports, with selection determined by a panel of current and former coaches from within the conference.
<b>Site Determined</b>
Beijing had the 2008 Summer Games. Vancouver will host the 2010 Winter Games. And the 2015 World Police and Fire Games? They'll be here in Fairfax County. A group of Fairfax representatives from the police, fire and sheriff's departments, Team Fairfax, recently learned that it was awarded the right to host the event, which will include events at George Mason University, the Fairfax County Criminal Justice Academy, various regional parks, the National Mall, Nationals Park, Reston Town Center and Quantico Marines Corps Base. In their 30th year of existence, the WPFG bring together participants from more than 65 countries, and the event has been going on since 1985. This year will coincide with the 75th Anniversary of the Fairfax Police Department. The WPFG include over 60 different sporting events, which range from soccer, basketball and tennis to stair climbing, shooting and SWAT exercises.
<b>Lange Booked</b>
After headlining the previous seven professional boxing shows at George Mason University's Patriot Center, Great Falls native and Bishop O'Connell graduate Jimmy Lange will return to Fairfax on Saturday, Sept. 26 to defend his World Boxing Council (WBC) U.S. National Boxing Championship (USNBC) 154-pound title against Jonathan Reid. Lange is familiar with Reid, too, as both spent time on NBC's "The Contender," which is a reality boxing show. Lange (30-3-2, 21 KOs) and Reid (34-11, 19 KOs) will meet in the card's 12-round Main Event. Tickets, which range in price from $30-$500, are available at the Patriot Center box office and through all Ticketmaster outlets. Lange last appeared at Patriot Center in May, scoring a fifth-round TKO of Frank Houghtaling.