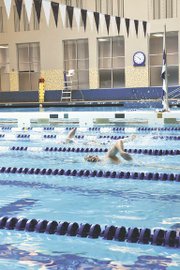 Todd Hanson lives just four blocks away from the Yorktown pool in North Arlington and yet, Monday afternoon, when his two daughters wanted to escape the oppressive August heat and go swimming, the trio hopped in the car and made the 2.5-mile drive to Washington-Lee's aquatic center.
Opened on July 14, the state-of-the-art facility has made quite an impression on the family since Laura, 13, and Anna, 11, began taking swim lessons there a few weeks ago.
"They want to come more and more," said Hanson of the two, three, and sometimes four times a week they've visited.
With a 25-yard by 25-meter competition pool featuring seven lanes for lap swimming and two diving boards and another instructional pool with a beach-style entrance, the new W-L complex can match up with just about any swimming pool in the area.
There's also a spectator area overlooking the two pools that can fit 175 people, new locker rooms, and a high tech scoreboard with touch pad capabilities, meaning upcoming winter swim meets will no longer feature adult timers. In addition, a movable bulkhead in the competition allowed the possible for even more lap lanes or games of water polo.
"We're just able to offer so much more to the public," said pool manager Dave Hodge.
<b>MONDAY WAS</b> 28-year-old Arlington resident Kevin Craft's third time swimming laps at the new facility. He said one time he had to share his lane with two others, but it wasn't a problem with how spacious the lanes were. He plans on continuing to come back.
Also in the lap lanes was 26-year-old George Mason student Pat Smith, a first timer at the W-L Aquatic Center who was training for an upcoming triathlon. He usually swims at the George Mason facility, but since he lives in Arlington, W-L is much more convenient. He also said he would be returning, impressed by his first visit.
"It's definitely an upgrade over the old facility," said Craft of the former pool, which was closed for demolition on June 28. "I wish it was a little cheaper, but it's not unreasonable," a sentiment Smith agreed with.
Right now, Arlington residents under 12 years old pay $1 per visit, while those between 12 and 18 years old pay $1.50. Adults must pay $4.75 per visit, while senior citizens (62 and older) pay $3. Those fees increase to $2, $3.50, $10, and $10 for non-residents.
However, Hodge pointed out that the W-L Aquatic Center offers discounts in the form of swim tickets good for 20 swims as well as annual memberships. Thus far, though the prices haven't been that much of an issue, with Hodge estimating crowds of 200-plus during the facility's first few weeks of business.
This winter, the competition pool will be home to the Washington-Lee swim team, the Arlington Aquatic Club, and the Arlington Masters, an adult only swimming program.
The facility is run by Arlington Public Schools, a difference from Yorktown and Wakefield's pools, which are run by Arlington's Parks and Recreation Department. Between 1993 and when the old W-L pool was demolished last month, it was run jointly by Parks and Rec and APS.
<b>IN CONJUNCTION</b> with its partnership with APS, W-L is offering free lifeguard training to students that end up working more than 100 hours at an Arlington County pool as a result.
That, though, matters little to the Hanson girls. They both like that the instructional pool is kept at a toasty 86 degrees, but more so than anything, they're fans of the two 1-meter diving boards. In the old W-L pool, Hodge would have to close down three lap swimming lanes to open a diving board for youths, drawing the ire of some adults who didn't want their routines interrupted.
Now he can open the diving boards and still potentially have seven lanes for lap swimming.
"It's big," said Anna Hanson as she tried desperately to stop talking and head over towards the diving board. "I just like the whole pool."