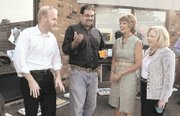 Alexandria students (K-5) in the Campagna summer camps at Barrett, Ramsey and Lyles Crouch elementary schools participated in a summer arts project with artist Jorge Perez-Rubio this session. The classes worked to design and create a mosaic pathway for the Jefferson Houston Head Start playground. Visual elements of line, shape, form, value, texture and color together with art and design elements of balance, emphasis, unity, movement, rhythm, pattern and space were introduced and explored by the students.
Materials were donated by Daltile, the Torpedo Factory artists and Home Depot. Tech Painting, Teri Boyd and Scott Burr donated the materials and labor to create the "Blackboard Wall," a temporary artwork space for the Head Start students.
The tiles will lead from the front of the Head Start building on Cameron Street to the playground at the side. Additional tiles will be presented to the schools, the Torpedo Factory and to the City.