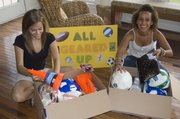 Jahna Kimm Knight decided to extend a helping hand similar to those that had reached out to her.
Jahna and friend Michelle Hummel started "All Geared Up" near the end of 2008 with a focus on collecting used athletic equipment for children and teams in need of assistance. The soccer-playing duo had its first collection during the spring and is planning another in the fall.
"I got this idea because when I was young, I wasn't able to afford sports gear and I wore a lot of donated sports gear," said Jahna, now a 17-year-old senior at Highland School in Warrenton. "… I had seven pairs of cleats in my room that weren't being used and I realized someone else could use them more."
In addition, Jahna and Michelle, a 17-year-old senior at Loudoun Valley High School in Purcellville, will put on a soccer clinic from 1-3 p.m. Saturday at the Dulles Sportsplex in Sterling. The clinic is free and open to athletes ages 4-12. Parents should call 703-499-1502 to register children. Each participant receives a free T-shirt courtesy of Ashburn Consulting.
Kimm Knight and Hummel will team up with four local coaches to provide instruction.
"All Geared Up" collects equipment for soccer, lacrosse, basketball, dance, baseball, softball, volleyball, golf and football, and helps get it to an agency for distribution. The gear will be given out locally and as far away as Iraq.
"I really love sports and I just wanted to be able to give every kid the opportunity to play sports, no matter what," Hummel said. "… It makes me feel really proud just to know that any little bit that I can do is helping someone and making their day."
Learn more about "All Geared Up" at www.allgearedup.org.
— Jon Roetman