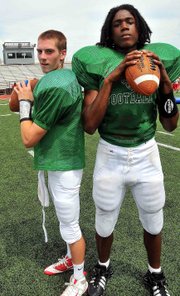 Joe Hargrove has the confidence to throw deep and the arm to back it up.
Ask the T.C. Williams senior quarterback about his strengths, he'll say he can throw a football 70 yards. Watch Hargrove in practice, and he'll make you a believer.
The 6-foot-3 slinger of spirals has the ability to stretch the field with the deep pass, or thread the needle to an intermediate receiver. The left-hander throws with a fluid, over-the-top motion. Consider also Hargrove's belief that he won't be stopped and ability to make plays with his legs and he appears primed to lead the Titans to a successful 2009 season.
Not so fast.
Titans senior quarterback John Bray, second on last season's varsity depth chart behind school-record breaker Zach Goehler, is competing with Hargrove for the position. Hargrove is more physically gifted than Bray — Hargrove is three inches taller, 30 pounds heavier and has a stronger arm — but Bray is an experienced passer who is also confident he can get the job done.
Hargrove and Bray have an opportunity to prove themselves during the Titans' two scrimmages, starting with a 7 p.m. Friday meeting with Marshall. T.C. Williams also hosts a scrimmage Aug. 27 against Centreville.
Titans head coach Dennis Randolph said the team's starting quarterback will be determined by who performs the best during the scrimmages — notably who best handles the team's no-huddle offense — rather than who possesses the superior physical tools.
"I've told them the guy who moves the ball the best is going to be the quarterback," Randolph said. "… All things in all, Joe probably has the advantage for the height and the arm. I think their decision-making ability, their footwork, their leadership ability, I think, is pretty even right now. … I'll know more [Friday] when we scrimmage Marshall. I want to see who moves them down the field. It's not always about completing passes; it's how you handle yourself.
"We don't huddle — we call everything from the line. It's really important that they be able to manage the game. I don't know who the best game manager is, yet."
BOTH QUARTERBACKS experienced success during offseason passing camps and competitions. Randolph said the team took first or second in every tournament it participated in while rotating Hargrove and Bray. Randolph said Hargrove produced big plays, while Bray was at his best moving the ball down the field during multiple-play drives.
Though Randolph was pleased with his quarterbacks' offseason success, he said now is the time for the two to show what they can really do.
"The 7-on-7 is a different animal than a football game," Randolph said. "It's just a different game. We enjoyed it, we had a good time, we played hard, we were successful, but now it's time to play a little different game."
Hargrove played for the junior varsity last season but dressed for varsity games. He said he wants to play in college and is confident he can lead the Titans.
"I worked real hard to get where I'm at now," Hargrove said. "It just doesn't come easy. You've got to work. … This is my senior year. I've got to do whatever it takes for me to end up on a DI scholarship or on a DI football team."
Randolph acknowledged Hargrove's ability.
"Joe's a very tough competitor," Randolph said. "He's intense. He has a lot of confidence in himself. He thinks he can throw the ball 100 yards — and there's times where it looks like he can. … He has limitations, obviously, but he has a lot of confidence in his arm."
Bray, a right-hander with a three-quarter delivery, said he learned from watching Goehler last season. Why should Bray start? He pointed out his commitment to the program.
"I've been here four years," Bray said, "and haven't missed a thing."
Randolph acknowledged Bray's work ethic.
"Nobody has been as dedicated as John Bray," Randolph said. "… John doesn't have the arm strength or anything like that that Joe does, but John believes he can get it done, and that confidence goes a long way in making sure you get the job done."
Randolph hinted he's in no hurry to name a starter and might play both quarterbacks during the season. The coach is confident the Titans can win with either player at the helm.
"Sometimes, whenever you watch two different quarterbacks go in, there's a drop off," Randolph said. "We didn't have that [during the summer]. We haven't seen that yet."