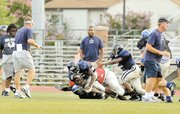 Washington-Lee football coach Josh Shapiro answered the first question of Thursday's post-scrimmage interview with a hint of humor, lightening the mood after his Generals struggled against West Potomac.
"[West Potomac] coach [Eric] Henderson's got a much better football team than Coach Shapiro does," he said in jest when asked of his general thoughts about the scrimmage at WLHS.
Shapiro got down to business with his second answer.
"[West Potomac was] just better — more physical, better technique; [they were] real strong," he said. "It looked the way it should look when you've got a real good team against a real inexperienced … team. … We stood toe-to-toe, for a series or so — nothing looked horrible. But after awhile they wear you down and they just start technique-ing you and strength-ing you and next thing you know they're slapping you around.
"… They're a good team right now, we're not. But I'm not mad at my kids. I'm not disappointed. We're going to get better."
Washington-Lee has several areas in which it needs to improve if the Generals hope to surpass last season's 5-6 record — most notably offensive line play. Washington-Lee will operate primarily out of a spread offense in 2009 after experimenting with the scheme last year. On Thursday, Washington-Lee had problems moving the ball with consistency.
Two juniors are vying for playing time at quarterback. Richard Lewis (6 feet 2, 170 pounds) started Thursday's scrimmage under center, and later shared time with Keesean Braithwaite (5-10, 175). Shapiro said he was pleased with the way Braithwaite threw the ball.
The Generals' top receiving threat is Karl Lendenmann (6-1, 180). The senior said he would prefer the team throw the ball more than it did Thursday, but added the offense should open up with time.
"We're going to treat [Thursday's scrimmage at South Lakes] more like a game, so maybe [there will be] more passing," Lendenmann said. "The quarterbacks are working hard, so give them time."
Lendenmann, who is an outside linebacker for the General defense, snagged an interception against West Potomac.
Junior Anthony Taylor (5-11, 175) is slated to start at running back, but did not play Thursday against the Wolverines due to a hamstring injury.
Defensively, the Generals' 3-3 stack scheme is led by senior middle linebacker Rock Battle (5-11, 225), who said he and his fellow linebackers need to improve their communication.
"The linebacking corps [needs] to get more on the same page," he said. "… For me as an individual, I know I can play better [than I did Thursday]."
Washington-Lee opens its season with a home game against McLean at 7:30 p.m. Sept. 3.