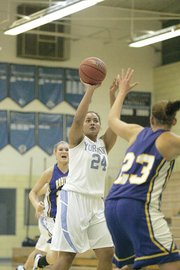 <b>Yorktown Girls Searching for First Win</b>
The Yorktown girls basketball team is off to an 0-4 start, but head coach Dave Garrison notices improvement.
The Patriots lost at home to Chantilly, 73-51, on Dec. 8, on the road to Bishop O'Connell, 72-66, on Thursday and on the road to McLean, 61-55, on Friday. After dropping its first two games by an average of more than 20 points per contest, including a 19-point season-opening loss to Robinson, Yorktown lost by six in its latest two matchups.
"We're playing better from the first game to the fourth," said Garrison, who added the Patriots' best performance was their most recent, against McLean.
Lena Negri and Peyton Lee led Yorktown with 12 points each against McLean. Lindiwe Rennert scored 11 points and Brooke Huffman added 10.
Against O'Connell, Huffman led the way with 21 points. Lauren Dresser scored nine points, and Emily Rebh, Negri and Lee each added eight.
Against Chantilly, Rennert scored a team-high 13 points, while Lee and Negri each finished with 11.
"They played hard and we're continuing to improve," Garrison said. "We're starting to play as a team."
Yorktown opens National District competition with a home game against Washington-Lee at 6 p.m. Tuesday. The Patriots will host Wakefield at 6 p.m. Friday.
<b>Yorktown Boys Split a Pair</b>
The Yorktown boys basketball team lost at Chantilly, 55-37, on Dec. 8 and beat McLean at home, 68-46, on Friday.
Against Chantilly, Nikko Esherick led the way for Yorktown with 13 points, while Mike Veith added nine.
In the victory over McLean, the Patriots had four players score at least eight points. Jack Earley scored a team-high 20 points, Veith finished with 11, Kevin Bailey totaled 10 and C.J. Bartholomew added eight.
Yorktown head coach Richard Avila said he hopes the Patriots produce a balanced scoring attack like Friday's on a more consistent basis.
"If we can get eight or nine guys to score eight to 10 points," Avila said, "it would be better than relying on one or two" for the majority of our points.
Avila said he'll have a better idea where his team is at after this week, when the Patriots open National District play against Washington-Lee (7:45 p.m. Tuesday) and Wakefield (7:45 p.m. Friday).
<b>O'Connell Girls at 4-1</b>
The Bishop O'Connell girls basketball team won two of three games during a four-day span, improving its record to 4-1.
The Knights dropped a Washington Catholic Athletic Conference game to Good Counsel, 83-64, on Dec. 7, but bounced with wins over Washington –Lee (59-48, Dec. 8) and Yorktown (72-66, Friday).
O'Connell buried 12 3-pointers in its win over Yorktown. Kara DeGuisto scored a team-high 21 points for the Knights, while Sarah Jones added 16.
O'Connell lost to St. John's, 88-48, on Monday. The Knights will travel to face E.C. Glass (Lynchburg), Liberty Christian Academy (Lynchburg) and Collegiate School (Richmond) Wednesday-Friday. The Knights will play another road game on Dec. 21 against Georgetown Visitation.
<b>Yorktown Swimming Sweeps Mount Vernon</b>
The Yorktown Swim & Dive teams swept the visiting Mount Vernon Majors in a meet held at Yorktown Pool on Friday. Both Yorktown teams improved their dual meet records to 3-0 for the season. The boys won, 107-78, and the girls won, 122-64.
The boys meet was close with Yorktown holding a nine-point lead after the 100 freestyle. A late surge that included a 1-2 finish in the 500 free by Andrew Leach and Jimmy Linek and a sweep in the 100 breaststroke by Greg Crosswell, Drew Findley, and Linek led to the final margin. The boys won nine of 12 events, including all three relays. Leach (200 free and 500 free) and Crosswell (200 IM and 100 breast) were double winners. The other event winners were Fabian Propers (50 free) and Collin Condron (100 fly). Angus Moloney finished second to lead Yorktown divers. First place relays – 200 Medley Relay (Linek, Crosswell, Leach, Propers), 200 Free Relay (Leach, Scott Liddell, Propers, Wren Rudolph), and 400 Free Relay (Condron, Linek, Propers, Rudolph).
The girls won of nine of the 12 events, including all three relays and two sweeps (500 free and 100 back). A couple of freshmen shined in their first meet. Amanda Didawick won the dive event and followed that up with a victory in the 100 butterfly. Abigail Young introduced herself to Yorktown swimming with a 100 backstroke victory. The other individual event winners were Abigail Ortmayer (200 IM), Emma Leheney (50 free), and Angela Slevin (500 free). First place relays – 200 Medley Relay (Young, Ann Carpenter, Leheney, Lydia Carpenter), 200 Free Relay (Slevin, Olivia Shipley, Didawick, Stephanie Romano), and 400 Free Relay (Ellie Belilos, Katie Gentsch, Young, Slevin). Young (100 back) and Ortmayer (100 breast) achieved Region-qualifying times.
The Patriots return to action Dec. 18 when the Stuart Raiders visit Yorktown Pool. The meet begins with diving at 6:30 p.m.
<b>Washington-Lee Boys Fall to 0-4</b>
The Washington-Lee boys basketball team lost to Park View, 69-61, on Dec. 8 and fell to Oakton, 60-39, on Friday. The Generals (0-4) travel to face Yorktown at 7:45 p.m. Tuesday and host Mount Vernon at 7:45 p.m. Friday.
<b>Washington-Lee Girls Drop Two Games</b>
The Washington-Lee girls basketball team dropped to 2-3 with losses against Bishop O'Connell (59-48, Dec. 8) and Oakton (60-28, Friday). Washington-Lee travels to face Yorktown on Tuesday and Mount Vernon on Friday.