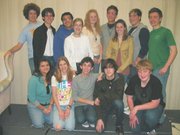 Dominion High School is gearing up for its production of "Arsenic and Old Lace," Feb. 5-8, at 7:30 p.m., with a Sunday matinee, at 3 p.m. The play is a dark comedy about a couple of sweet elderly sisters who are known for their acts of charity. Those acts include "mercifully" poisoning strangers who come into their home to put them out of their misery.
"The play is a classic period comedy where the actors have to practice stylized acting and comic timing with a twinge of the macabre," Amy Young, drama director, said. "It's hysterical and the actors continually bring their own zany personalities that add to the production."
FIONA RITCHEY, 17, of Lowes Island, plays Martha Brewster. "She is the one who actually does the poisoning of the charities," she said, referring to the old men. Her challenge, she said is not talking as much as her last role, and finding something to do with her time. She said the fun part is wearing a padded body suit and bra filled with split peas. "They're a character within themselves."
Rachel Ayers, 18, of Lowes Island, plays her sister Abby Brewster. "She's like a sweet old lady, but she's really the brains of the operation," she said. "She doesn't see anything wrong with killing people." When she graduates, she said she wants to be an army nurse on her four-year ROTC scholarship.
Bryan Fountain, 17, of Sugarland, plays Teddy Brewster who thinks he's Theodore Roosevelt. "He's not really right in the head," he said. The challenge is the voice because it's more "gruff and manly." He's having fun with the role because "I get to be the most crazy. There's nothing that's off limits to me." Bryan plans on majoring in film studies at VCU.
Nazim Benarbane, 17, of Sugarland, plays Jonathan Brewster, who he describes as "very mercurial." He adds, "He's driven by his goals, which are to kill, make money and exact revenge." The fun part, he said, is "It lets me exact all of my fantasies, like going ape and being unhinged without any repercussions." Nazim plans on majoring in philosophy at Evergreen College.
Taylor Berrett, 16, of Rivercrest, play Mortimer Brewster who he describes as pretty much a "jerk" at the epicenter of all the craziness going on. "A lot of the humor comes from the fact that I'm a straight-laced guy and all this nonsense is going on around." He hopes to study music in college.
JULIA GERMAIN, 17, of Lowes Island, plays Elaine Harper, the not-so-smart girlfriend of Mortimer. "Elaine is very flirtatious to say the least," she said. "She is definitely promiscuous." She spends the whole time trying to get Mortimer to pay attention to her. "It's hard to be that promiscuous or that flirty," she adds.
Tyler Grad, 18, of Seneca Ridge, plays Officer O'Hara, the archetype of a bumbling Brooklyn police officer. "He simply lacks the perception of putting 2 and 2 together." He said the challenge was "dumbing myself down" to making simple statements. And the fun part is that he gets to act outrageously. Tyler hopes to study graphic design at the Corcoran College of Art.
Ty Sheedlo, 16, of Lowes Island, plays Dr. Einstein, who has a drinking problem. "I get to act really stupid and do some funny things," he said. But the biggest challenge is having to act drunk. He also plays the character using a fake German accent.
Matt Eisenberg, 17, of Lowes Island, plays a cop named Brophy who has Brooklyn accent, and "not the brightest guy in the world," he said. "He thinks he's very smart and intelligent, but actually he's a goof." Barbara Rion, 16, of Rivercrest in Sterling, plays Lt. Rooney. "She is a really determined, domineering officer," which is fun because most of the guys in the police force are taller and idiotic, "so the contrast is really funny."
James Russell, 15, of Lowes Island, plays Elaine's father, the Rev. Harper, a similar role to one he played in "Little Women." The dad doesn't approve of his daughter going out late and coming home at 3 in the morning. "There's a lot of fun people in the cast," he added.
Stephanie Booth, 15, of Seneca Ridge, plays Ethel Gibbs, a lonely old lady who rents a room from the Brewsters. "They try to kill her, but she gets away," she said. Her challenge is playing an older woman with a lower voice. In one scene she gets chased while wearing heels. "I'm scared I'm going to fall on my face in front of everyone," she said.
Erik Abrahamsen, 15, of Sterling, plays Officer Klein who has a thick Brooklyn accent. "I just like being part of this community of everybody here at Dominion." He said getting down the accent is a bit difficult, but he uses his grandma's New York accent as a guide. He said he hopes to study musical theater in college.