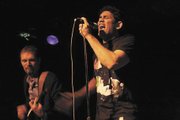 The audience at the recent Nero concert didn't look like the average rock show crowd.
Business suits and Blackberries abounded and many looked like they hadn't been to a concert involving loud electric guitars in years. Many had just come from work at Merrill Lynch in Vienna to see their friend and former colleague, Nero, perform in front of an audience for the first time in support of his new album, "9."
At one time, Nero worked with these people. By day, he was a mortgage broker at a large financial firm. By night, he was in the studio, working with session musicians and laying down vocal tracks.
And then the economy collapsed. Very suddenly, working in the mortgage business for a large financial firm very was a liability.
Late last year, Nero lost his job at Merrill Lynch. His manager was distraught when he delivered the news. "[But] I said 'Don't worry, I'll be just fine,'" Nero recalled. "'I know exactly what I'm doing.' ... It was almost like a blessing in disguise."
NERO WAS BORN in Bangladesh as Faisal Hasan. His family left the country in the early '80s after his father, a businessman, refused to cooperate with the military dictatorship. They settled in South Florida, where Nero grew up, went to school and started a career.
In 1997, Nero's father died and his mother moved to Northern Virginia to start a new life. This had a major impact on his life.
He had been singing since he was 5 years old and had attended an arts college in Miami to study musical theater. But after the death of his father, Nero began to write his own songs.
In 2001, Nero took a job with Merrill Lynch in Northern Virginia to be closer to his family. The job paid well and it allowed him to purchase time at a recording studio to pursue his dream. "Art is my gift," he said. "And that's what I want to give."
To craft the sound he wanted, Nero opened a phone book and cold-called more than a dozen professional musicians, eventually settling on a group of around five to work with him on the album. They spent nearly four years in and out of a Fredericksburg, Va., recording studio, crafting and refining Nero's debut. "It's a lot of work," Nero said, "And it shows."
The resulting album, "9," is introspective and spiritual. Nero's lyrics reflect the soul-searching he underwent after the death of his father, with references to a "bleeding heart" and being trapped in a "golden cage." Musically, the songs on "9" run the gamut of genres, from South Asian qawwali to jazz/funk fusion to Fleetwood Mac-style rock.
BUT "9" isn't a vanity project for Nero. In addition to releasing the album, he is also starting a nonprofit group called Arts For Understanding that will expose children in Third World countries to arts education.
"Arts and entertainment has shifted to a very small percentage of people, people with means," Nero said. "The rest of them, the underprivileged, don't have any access to this.
"It's using music to bridge the gap," he added. "This is the best way I know to bridge the gap."
As Nero says, the organization is currently in its "larval" stage and has yet to begin fund raising. But he has already lined up logistical support from many of his former clients and colleagues.
Sterling resident Charlie Nardiello is a former coworker of Nero's. He now serves on Arts For Understanding's board of directors. "[Nero] told me about it over lunch one day," Nardiello recalls. "This was kind of his dream, what he wanted to do with his life. He was at a crossroads."
Virginia O'Neill is an Arlington-based attorney whose daughter is a friend of Nero's. She provides legal support to Arts For Understanding. "He's very enthusiastic about what he wants to do," she said. "He's a very positive person and he is not one who's going to suck his finger and say 'Poor me.' He'll say 'How can I rework this?' I think that's one of his strengths."
Theresa Jewell of Fairfax Station is also helping the nascent organization. "I'm proud of him," she said. "I think [being laid off] was definitely a blessing in disguise."
NERO SEES his pursuit of a career in music as a way to honor his late father, who had always encouraged him to follow his dreams. His pseudonym, Nero, was chosen because it was his father's middle name.
He recently found another job with Bank of America but, this time around, he has a different perspective. "Everybody has to have something to pay the bills," Jewell said. "I see his career in the financial industry as just paying the bills."
"Music was always there," he said. "I always had it going alongside my day job. Now it feels like this is my only focus. I should have done this a long time ago."