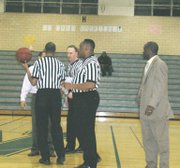 The Mount Vernon boy's basketball team clinched a share of the National District regular-season title with a 78-69 win over Wakefield Tuesday night, but the accomplishment was overshadowed by a fight that spilled into the stands late in the fourth quarter.
What was a high paced, hotly contested, and emotionally charged basketball game between the Majors and Warriors turned ugly in the final moments as an altercation between two players escalated into a full-fledged melee among fans.
After two free throws by Mount Vernon junior Skylar Jones gave the Majors a 66-60 lead with just under four minutes remaining, a Mount Vernon and a Wakefield player became tangled underneath the basket.
Shoves were exchanged, but things got out of control when the benches cleared and several adult fans from both teams became involved. Play was stopped for more than 30 minutes while police and school officials restored order.
Officials decided the best course of action was to clear the gym in order to finish the game. With the help of administration on hand from both schools, each set of fans departed in a separate, orderly fashion to avoid any further incidents. Only players, coaches, game officials, and the Mount Vernon JV basketball team were allowed to stay.
According to an Arlington County police spokesperson, one 18-year-old Wakefield student was arrested for trespassing after refusing to vacate the premises. Several additional police officers were called in to monitor any potential disagreements in the parking lot. There were no reported injuries.
<b>BOTH PLAYERS</b> who started the fighting were ejected and are therefore automatically suspended from their team's next game, according to Virginia High School League rules.
Paul Regnier, a spokesperson for Fairfax County Public Schools, said Wednesday morning the school system is still "trying to piece together what happened" and that further disciplinary measures will be made if necessary.
"You never foresee a situation like this happening … but you had two teams that want to win, that are competing at the very highest level that they can," said Mount Vernon coach Alfonso Smith. "If different things happen during the game, it's unfortunate people took things personal and both teams lost touch of things. … Just in trying to keep them both disciplined, we both fell short tonight."
"I've been coaching 18 years and I've never seen anything like this," said Wakefield coach Tony Bentley, adding that he was certain no fans went after players and no players went into the stands. "I've seen coaches get ejected, I've seen fans get ejected, I've seen players get ejected, but I've never seen a whole gym cleared."
<b>THE FRACAS</b> put a damper on what should have been a joyous night for the Majors, who played their best first half of the season, according to their coach. They remain the lone undefeated team within the National District.
What made matters worse is the game had reached its most entertaining and exciting point when play was stopped. The Warriors were in the process of wiping out a 14-point third-quarter deficit, but Mount Vernon (15-4 overall, 10-0 district) held strong, hitting some clutch free throws once play resumed.
Jones led all scorers with 30 points and 10 rebounds, while Mount Vernon senior Robert Coleman chipped in 14 points. Seniors Johnathan Ford (20 points, 11 rebounds) and Romeo Goffney (12 points, five rebounds, and five assists) led Wakefield (13-6, 5-4).
The Majors have now reeled off 13 consecutive victories after starting the season losing four of their first six games. Their last loss came Dec. 13, a two-point defeat to Hylton. Mount Vernon can clinch the outright district title with a win Friday night over Stuart.