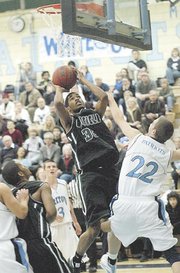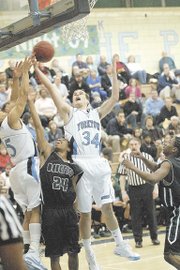 Tony Bentley had all the classic gestures an angry coach makes down pat. At various points of last Friday's showdown against Arlington rival Yorktown, the Wakefield boy's basketball coach had thrown his sport coat in disgust, stomped his feet in frustration, screamed at his own assistants, and of course, gotten in the ear of whichever ref was closest.
So it was downright shocking when Bentley flashed a smile as Yorktown switched from zone to man-to-man defense with just four minutes remaining and his team clinging to a four-point lead.
Turns out it may not have secured a victory just yet, but Wakefield had officially won the battle of wills.
"These guys, it had just been in their brain that we can't beat them because of the zone, the zone, the zone," said a now beaming Bentley after defeating Yorktown, 66-59, to avenge a Jan. 6 loss. Wakefield had lost five straight games to the Patriots and its eight-member senior class had never beaten Yorktown at any level of basketball.
"That took entirely way too long to do," said relieved senior Robel Getu of snapping the losing streak. "We needed this."
In saying good riddance to such bad karma, the Warriors have the unlikely combination of a more patient approach and senior Andre Allen to thank.
Wakefield (13-5 overall, 5-3 National District) usually favors a frenzied pace that takes advantage of its plethora of gifted athletes. But Yorktown's zone has served as a proverbial tire spike for Bentley's squad, who committed 19 turnovers and forced numerous tough shots against the Patriots earlier in the season. This time around, Bentley made it a point of emphasis in practice to swing the ball around the perimeter more, so gaps would open on the interior as the Patriots' zone rotated to keep up.
The Warriors did just that, and it left up plenty of room for the 6-foot-5 Allen (team-high 19 points) to operate in the high post. And whether it was feeding fellow senior Johnathan Ford (14 points, nine rebounds) in the paint, getting Getu (20 points, including four 3-pointers) open looks outside after the defense collapsed, or sinking his own smooth lefty jump shots, Allen's presence was felt more so than at any point during this season.
A player who Bentley could only describe as "sporadic" following the stellar performance, Allen is just five games removed from serving a suspension after violating team rules. He, along with four other seniors, were forced to sit out Wakefield's Jan. 9 loss to Mount Vernon.
"I just saw the court well tonight," said Allen, whose previous season-high was nine points against Annandale in December.
Now the Warriors move onto a pivotal match-up Tuesday night against National District-leading Mount Vernon, which takes place after the Connection's press time. Like Wakefield, the Majors like to get up-and-down the court, a welcome change for the Warriors after going against the grain in more than one way this past weekend.
<b>FOR YORKTOWN COACH</b> Rich Avila this game was all about adjustments — as in the changes the Warriors made versus the inability to implement them on the Patriots' side.
Yorktown (9-9, 5-3) has the midweek snowfall that closed school and therefore cancelled activities on Tuesday and Wednesday to blame for the failure to adapt. It meant the Patriots had just one hour of practice leading into Friday's game.
And even though Yorktown scored more points than in their victory over Wakefield earlier in the season, the Warriors' decision to switch on every screen defensively is what Avila thought made a huge difference.
"We weren't getting the types of shots we normally get out of our offense," said Avila
"Us taking hard shots, them taking easy shots — they're probably going to win every time like that," said guard Mike Veith (game-high 21 points).
Yorktown takes on Edison Tuesday night and then faces Washington-Lee Wednesday night, a make-up of last Tuesday's game scheduled between the two schools.