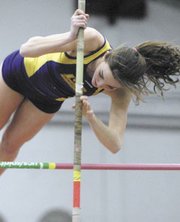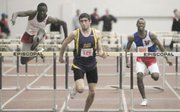 As senior Becca Shoemaker took a running start in last Saturday's pole vault event for the Patriot District indoor track and field championships, she was seen counting an unidentifiable set of numbers under her breath.
As it turns out, Shoemaker was not counting the number of district titles that her team has won throughout its history — that'd be 21 — but rather the 14 steps needed to perfectly time her vault over the bar.
Shoemaker eventually won the event with a jump of 10 feet, and Lake Braddock added to its legacy with a 21st district crown, holding off West Springfield by the score of 138-111.
"They did an awesome job," said Mike Mangan, the Bruins' coach. "There's a lot of pride in what they do, and districts are that time for those girls. People step up and do great things."
As the top seed, Shoemaker has the luxury of watching those before her as the bar reaches a height that corresponds with her seed. Much like a closer in baseball, Shoemaker has some time to stew before competition, but still she chooses only to focus on her teammates.
"I don't really think about much, except cheering for my teammates," said Shoemaker, who also won the triple jump with a mark of 33-06. "Once I'm up, then I start to think about [the event]."
<b>THAT TEAM-FIRST</b> concept is one of Mangan's hallmarks, and it paid off again Saturday at Episcopal High School, although it doesn't hurt to have some of the most talented runners and jumpers in the district either.
Junior Liana Epstein won the 1,600-meter run with a state-qualifying mark of 5 minutes, 3.99 seconds, and she later won the 1,000 with another state-level time of 3:01.52. Epstein also anchored the first-place 4x800 relay team (Kelly Hagan, Casey Lardner, Taylor Moore), which finished first at 9:27.54.
Sophomore Becca Sinichko added to the scoring with her first-place performance in the 500 dash, finishing in 1:18.91.
On the boys side, senior Mike Santano won both the high jump (6-5) and the 55 hurdles (7.74), while classmate David Fishman made it a pole vault double with his mark of 13-0. The boys team finished fourth with 61.5 points.
While he's certainly enjoying the performances put forth by those mentioned above, Mangan also takes pride in events like the girls shot put, in which Lake Braddock took third (Vicki Sica), fourth (Madeline Menye) and fifth (Tara Fialkow) and all three throwers set personal-best marks.
"You can be the best athlete here, but if you don't have a team, it doesn't matter," said Mangan, whose team will compete next at the Northern Region championships, scheduled for Saturday, Feb. 21 at George Mason's Field House. "You win a lot more titles with the people who are all chipping in."