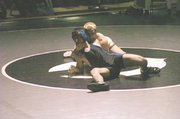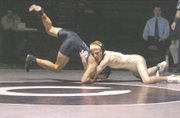 In the moments following the Westfield wrestling team's sixth consecutive Concorde District title last Saturday at Chantilly High School, head coach Chuck Hoskins took turns posing for pictures with seemingly every wrestler on the team.
And why not? The opportunities to have everyone healthy and in once place have scarce this season, so nobody could blame Hoskins for wanting to capture the moment on film.
Out of the 11 dates in Fairfax County that teams are allowed to wrestle, Westfield didn't have its full complement of team members until the 10th one. And the Bulldogs made that issue a distance memory with their 225-209 win over Robinson Saturday.
"It's good to finally get everyone together," said 119-pound John Orchard-Hays. "We've had a lot of incidents and stuff that's been happening and breaking our team apart."
Westfield's "incidents" have varied from skin and bacterial issues to plain old injuries — neither of which are out of the ordinary when it comes to wrestling. At one point Hoskins was missing as many as four of his starters from an already-youthful team.
"The key term this year was perseverance," said Hoskins, whose team will compete in this weekend's Northern Region tournament at Fairfax. "Do not give up, keep the faith. Because when we get everyone together, we have a good team … just nobody knows it."
<b>WESTFIELD ENTERED</b> Saturday's final set of matches with an eight-point lead over Robinson, but the Bulldogs had a wrestler in 10 of the 14 weight classes — six that went on to win individual district titles.
Jeremy Ryan (112) atoned for a loss in last year's district final with a 7-2 win over Fairfax's Cory Apps. Orchard-Hays continued the Bulldogs' dominance with another 7-2 decision — this one over Josh Pike of Herndon.
"I should have done it last year, so it's really good coming back this year and doing what I should have done," Ryan said. "It's the greatest feeling that I could've had all year."
Brandon Berling, a 130-pounder, finally broke through after losing in the finals for the past two years, pinning Herndon's Nick Ziegler late in the first period. He was also the one responsible for Westfield's team-unifying act of dying everyone's hair Bulldog gold.
"I've always wanted to get a mohawk or dye my hair, but I was always a younger guy," Berling explained. "Finally, I said, 'Let's just do it.' It was team bonding."
"We didn't do it to be cocky or anything," 145-pounder Nick Grinups said. "We just did it for team unity."
Grinups, who missed two weeks back in December as one of Westfield's many casualties, cruised to a 12-4 win over Robinson's Reid Brown, and 150-pound Kevin Koch followed with a pin of Ahmad Elhajj of Fairfax.
Austin Fallon (189) earned Westfield's final first-place finish, scoring two late, key points to prevent Robinson's Marcus Hathaway from making a comeback. Fallon, another two-time runner-up, was called for stalling in last year's district final.
"I didn't want that, and I had to take a shot so it didn't look like I was stalling," Fallon said. "I got his ankle, lifted it up and got the two points."
And Westfield, after incurring a wrath of injuries, got healthy and scored yet another district title.
"This was Robinson's year to win it," Koch said. "We were struggling at the beginning of the season and everything was looking downhill, but now we just proved ourselves again."
<b>IN OTHER TOURNAMENT ACTION,</b> Centreville finished seventh in the district with 36 points. Emilio Garcia (171) posted a second-place finish, while 189-pound Martin Seneca finished third.
Chantilly heavyweight Chris Cabe earned a 3-0 win over Zach Patterson of Fairfax. And though he improved to 29-1 this season, Cabe refuses to get complacent.
"You don't ever want to be too satisfied, otherwise you can get lazy," Cabe said. "You can always strive to be better."