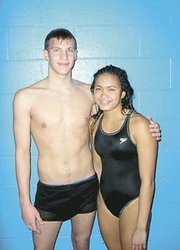 At first glance, West Potomac sophomore Mark Mattis and freshman Reanna Dona don't appear to have much in common.
Mattis is a lanky 6-feet-tall male long distance specialist, who prepared for last Saturday's Patriot District Swim and Dive Championships by eating a half-rack of ribs from Shane's Rib Shack on Route 1. Ironically, coach Bob Lombardi said Mattis's biggest asset in the pool is his hunger.
Dona is a barely five-feet tall female sprinter, who according to Lombardi "doesn't know how good she is yet." Her pre-race meal contained plenty of carbs, but none of the barbeque sauce variety.
So what do they share in common? Both swim for the competitive Fort Belvoir Swim Club year-round and both starred for the Wolverines last weekend, garnering plenty of attention from friends and foes alike.
"It's also they have heart," said Lombardi. "She has been swimming forever and Mark, too. If you can swim literally year round like they do, you're going to get better and better."
Dona was the star for the West Potomac girl's, cementing her status as one of the best up-and-coming swimmers in the region with a district title in the 50-yard freestyle and a third-place showing in the 100-meter backstroke.
The freshman was particularly impressive in her district-winning swim in the 50-yard freestyle sprint, beating the next closest competitor by more than a second.
"It was one of my best races ever," said Dona.
Mattis paced the West Potomac boy's to a sixth-place overall finish, nabbing second place honors in the endurance test that is the 500-yard freestyle and placing fifth in the 200-yard individual medley.
In that second-place showing, Mattis trailed Lake Braddock's Tyler Ogren by just a body length throughout. Asked if his mind ever wandered during the course of swimming back and forth 20 times, Mattis just laughed.
"When I'm swimming I just think about the race because throughout this one the guy was right ahead of me, so I had my mind on catching up to him," he said. "That's all that was on my mind."
Perhaps what makes Mattis most potent, though, is his versatility. With a small representation at this year's district meet thanks to a flu bug that ravaged some of the team, Lombardi made Mattis into a jack of all trades, swimming nearly every stroke in some race and oftentimes doing it at varying lengths.
Length, or lack thereof, has always been an issue for Dona since traditionally elite swimmers are long, lanky, and broad shouldered. But the diminutive freshman says her small frame actually helps in sprinting because "they have more distance to travel with their arms."
Short or not, Dona was the star of the show for the Wolverine girls, who came in fifth place overall.
Now she and Mattis move onto the Northern Region Championships, which are slated to take place this Saturday at Oak Marr Rec Center.