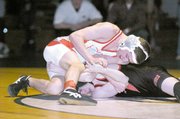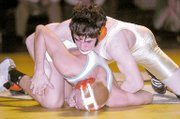 Marshall High had three individual champions crowned, while McLean had one, at last Saturday night's Liberty District wrestling championships. The postseason competition took place at Langley High School in Great Falls.
Marshall's district champions were Andrew Embree (215-weight class), Mark Bergenholtz (189) and Dan Montes (135). From McLean, Palmer Dickson captured the 119-weight-class title.
The next postseason stop is this weekend's Northern Region championships, set to take place at Fairfax High School.
McLean's Dickson, the top seed at 119, defeated both Harry Mandeles of Woodson and Jon Sommer of Stone Bridge to reach the finals of his weight class. There, he controlled his match against Madison's Mason Keena, defeating the Warhawk opponent by decision, 8-0. It marked the second straight year in which Palmer, a senior, has won a district title.
"It's great and I'm very happy about it," Dickson, who holds a 28-7 record on the season, said.
<b>DICKSON SAID</b> one of his motivations to do well in the finals was to help the Highlanders, who did not win a single district dual team meet this season, finish ahead of rival Madison in the team standings. As it turned out, Madison (75 points) and McLean (74) finished seventh and eighth, respectively, in the eight-team field. Langley High (193) was district champion for the ninth-straight year.
Dickson said he was going for a pin in the finals, which ultimately would have propelled the Highlanders out of last place. But he was not quite able to get it against the determined Keena (20-11), who twice was turned on his back in the first period before getting out the period trailing 5-0. Palmer, later in the match, wrapped up the scoring with a two-point standing takedown with one minute remaining in the third and final period.
"The team score was close with Madison and I wanted a pin," Dickson said. "We were trying real hard to beat Madison."
Dickson, who holds an 87-42 career record at McLean, said the energy level during the finals within the cozy, crowded Langley gymnasium was high.
"It really stimulates your adrenaline," he said. "It gets you pumped to try harder because everyone's watching."
Keena reached the finals with a semifinals win over Langley's Daniel Hozik.
McLean's Billy Dvorkin (22-10) reached the 171 finals before losing to Woodson's Tommy Williams (21-2) in a wild 15-12 score. Dvorkin, who was third at last year's districts in the 171-weight class, drew within 10-9 on a takedown with 55 seconds left in the third period, but never was able to tie the match or go ahead.
<b>MARSHALL HIGH</b> had a solid fourth-place team standing with 122 points, thanks in large part to the championship wins of Embree, Bergenholtz and Montes.
In the 135 finals, Montes (22-9) bested Woodson opponent Ben Breazille, 8-1. The senior built a 4-0 lead going into the third period, than scored two points with 1 minute, 35 seconds left to take a 6-0 advantage on way to the win.
"It's an emotional win," Montes, who was fifth at districts last year, said. "It took real hard work and lots of dedication. It feels great."
He looks forward to regionals.
"It will be fun and a good experience," said Montes, who is 97-32 during his varsity career with the Statesmen. "Hopefully I can [qualify] for states."
Marshall's Embree, in his 215 finals match, pinned Jefferson's Joe Latta (18-12) with 1:22 remaining in the third period. The junior took his opponent down at the edge of the mat at the 1:33 mark before recording the decisive pin.
Embree (32-5), who is headed for regionals for the third time, won matches over McLean's Abdelhadi Jarrar and Stone Bridge's Connor Calderwood to reach the finals.
In the 189 finals, Bergenholtz of Marshall defeated Woodson's Alex Jabaley by technical fall in the third period. The match ended when the Statesmen junior, who finished third at districts last year, scored a takedown to go ahead 16-0. Bergenholtz improved his season record to 31-7.
Marshall's Andy O'Meara made it to the 130 finals before losing to Langley's Jay Ives by a second-period pin. O'Meara, a senior, won districts last year at 119, will be competing at his fourth region tournament this weekend.
Other locals who placed — top-four finishers — at districts and will compete at regionals were McLean's Andy Chung, third place at 112, Marshall's Quan Nguyen, third at 140, Marshall's Daniel Picado, third at 145 and McLean's Will Stanton, fourth at 189.
Langley's David Helmer (44-1), competing at the 152-weight class, won his fourth-career district title and will be going for his fourth region crown at Fairfax. He was named Most Outstanding Wrestler at districts.
"Davey's just a tough kid, no doubt," Langley coach John Belyea said. "When he came in as a freshmen we knew we had something special there."