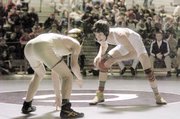 The Oakton High wrestling team had two champions crowned at last Saturday afternoon's Concorde District Championships. Cougar wrestlers Matt Patinos (160-weight class) and Chris Butters (125) both captured their respective weight-class titles.
Westfield High finished first in the team standings with 196.5 points, finishing ahead of second-place Robinson (188.5) and third-place Fairfax (119). Chantilly (85), Oakton (71), Herndon (52) and Centreville (36) finished fourth through seventh, respectively.
Patinos defeated Robinson's Wes Jones in the 160 finals. He reached the title match with wins over Chantilly's Wes Scholnick and Herndon's Adam Valcott.
At the 125 finals, Oakton's Butters defeated Westfield's Jerrod Branch in the championship match. He made it to the finals with a semifinals win over Chantilly's Lloyd Tenaglia.
Other top-four finishers for Oakton who will advance to this weekend's Northern Region Championships at Fairfax High School were David Millago (third at 215), Wade Kostkan (fourth at 152), Chris Lopina (fourth at 145) and Ethan Doyle (fourth at 140).
Herndon High saw four of its wrestlers advance to regionals. The Hornet wrestlers to go furthest at districts were Nick Ziegler, who reached the 130 finals before losing to Westfield's Brandon Berling, and Josh Pike, who made it to the 119-title match before losing to Westfield's John Orchard-Hays. Ziegler made it to the title match by defeating Oakton's Ryan Wood and Robinson's Charlie Vanney. Pike defeated Chantilly's Wes Litton in a semifinals match to make the finals round. Other place finishers for Herndon were Matt Olem (fourth at 135) and Gabe Pike (fourth at 103).
<b>The Concorde District Gymnastics</b> Championships took place at Centreville High School last Thursday, Feb. 5. The team champion was Chantilly High (143.325 points), which finished ahead of second place Robinson (133.55) and third place Centreville (127.325).
Herndon High's Lauren Sullivan (36.025) finished third in all-around competition. The all-around champion was Chantilly's Elly Taura. Robinson's Amanda Famiglletti was second.
On vault, Sullivan (9.5) finished second, while Herndon teammate Qadera Malveaux (9.35) was fourth. Sullivan was second on beam and fourth on floor.
<b>The Oakton High girls and boys swim</b> and dive teams had strong showings at last weekend's Concorde District Championships. The Cougar girls finished second in the team standings with 324.5 points, behind first-place Robinson (434). The Oakton boys, meanwhile, finished third with 355.5 points, behind champion Robinson (402) and second-place Fairfax (360).
Oakton highlights included a first-place finish by the boys 200 medley relay team, made up of Michael Hallock (backstroke), KJ Park, (breast), Zach Smith (fly) and Bradley Phillips (free). Also, the Oakton boys 400 free relay team of Bradley Phillips, Kevin Cho, KJ Park and Michael Hallock took second.
The Oakton girls 400 free relay team also was second. The foursome was made up of Quinn Wilkinson, Brooke Ream, Allie Maher and Kaitlin Pawlowicz.
Oakton's Bradley Phillips won both the boys 200 free and 500 free races. Also, Oakton's Kaitlin Pawlowicz, a sophomore, took first in both the girls 200 free and 500 free races. She set district records in both races.
In the boys 200 IM, Park won with a time of 1:55.79. In the boys 100 free, Hallock took second place in the "A" final. Junior Wilkinson was fifth in the girls 100 free and sixth in the 50 free. In the boys 100 back, Hallock captured first place. And teammate Park was first in the boys 100 breaststroke. Ashley Doran finished sixth in the girls 100 back race.
The Northern Region Championships will take place this Thursday through Saturday at Oak Marr Recreation Center. Preliminaries are Thursday and Friday and the finals are on Saturday night at 5:30 p.m.
<b>The Herndon boys' swim</b> team finished fourth overall at the Concorde District Championships. The Hornets boys' 200-yard medley relay team of Christian Matthews, Mark Rodakowski, Danny Camozzo and Christian Polito finished second behind first-place Oakton.
Herndon's Robert Carroll finished third in 1-meter diving. Camozzo was fourth in the 100 fly. Brian Via was third in the 500 free. Rodakowski was fourth in the 100 breaststroke.
The sixth-place Herndon girls had a strong meet from Molly Cudahy, who won the 100 backstroke event. Also for the Hornets, Jenna VanCamp was third in the 100 breaststroke.