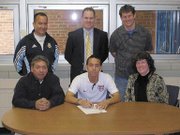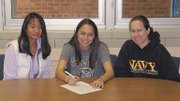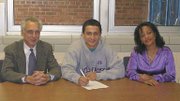 College signing day has come and gone and three Yorktown student-athletes will be taking their talents to the Division-I level next fall.
Amber Haling will report to the Naval Academy this summer and will play on the women's soccer team. She has been a varsity soccer player at Yorktown for four years and will be a leader on the team this spring.
Alex Herrera signed with George Mason University to play men's soccer next year. He is the reigning two-time National District Player of the Year and first-team all-Northern Region player. He also has played on several national teams and the DC United developmental team.
Kyle Toulouse will play football at Holy Cross next year. A three-sport standout at Yorktown, he was the National District Offensive Player of the Year this past fall and was first-team all-Northern Region. He will take his skills to the baseball field this spring where was named to the all-region first team.
<b>Northern Region Wrestling</b>
Yorktown senior Nathan Young's star shined brightest during a solid weekend for Arlington high school wrestlers at the Northern Region Championships at Fairfax High School last Saturday.
Young finished in third place in the 171-pound weight class, defeating South County's Arash Katirai 4-1 in the consolation finals. Young went 4-1 overall. Young moves onto next weekend's state meet, to be held at Oscar Smith High School in Chesapeake, Va. The Patriots' Danilo Downing came in fifth place in the 125-pound weight class with a 3-2 record.
Wakefield's Victor Leavell (135 pounds) and Chris Iofredda (171 pounds) didn't place, but had solid showings with 3-2 and 2-2 records, respectively.
Washington-Lee's Conor Sharp (275 pounds) and Rhyler Heining (152 pounds) both went 1-2. Heining won last week's district title with a broken hand.
Meanwhile, the Bishop O'Connell wrestling capped off a season that saw it win the WCAC title by coming in second place overall in the Virginia Independent School League state championships this past weekend. The Knights had four individual champions in their respective weight classes. They were Kyle Mason (119 pounds), Nam Dunbar (130 pounds), Johnathon Carpenter (135 pounds), and Mitch Brown (171 pounds).
<b>Northern Region Gymnastics</b>
With proposed Fairfax County budget cuts threatening to do away with the Northern Region gymnastics scene, numerous Arlington gymnasts competed in what could go down as the last Northern Region Girl's Gymnastics's meet ever last Thursday at Lake Braddock High School.
Washington-Lee's Samantha Sachs led the area's contingent with a 13th-place finish in the all-around competition. She had a score of 34.900. Following closely behind was Yorktown's Kelly Duncan, who finished in 17th place with a score of 33.700.
Wakefield's Jovani Garrett was also impressive, garnering third-place honors in the vault competition with a score of 9.500, while finishing in a tie for 10th place on the uneven parallel bars.
W-L's Jazmin Woodson placed ninth in the vault with a score of 9.25, while Yorktown's Joyanna Smith was 17th in the uneven parallel bars with a 8.5 score.