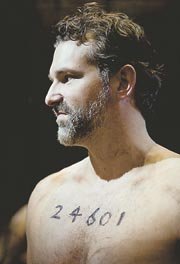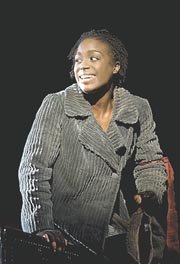 This year's nomination announcement ceremony for the Helen Hayes Awards which recognize outstanding work in the professional theaters of the greater Washington area turned into something of a love fest for artists who worked at Arlington's Signature Theatre. In all, the name "Signature Theatre" was pronounced 39 times out of the 150 nominations announced in 25 categories.
The production drawing the largest number of nominations of all was Signature's "Les Misérables," which is currently running at its Shirlington facility. (It closes on Sunday.) The show earned an astounding 13 nominations including those for outstanding musical and outstanding director of a musical (Eric Schaeffer) musical direction (Jon Kalbfleisch) lead actor (Greg Stone) set design (Walt Spangler) lighting design (Mark Lanks) and the entire cast was nominated for the Canadian Embassy Award for Outstanding Ensemble as well. The categories for supporting performers were dominated by this one show with three nominations for supporting actress (Felicia Curry, Sherri L. Edelen and Tracy Lynn Olivera) and three for supporting actor (Christopher Bloch, Andrew Call and Chris Sizemore).
TWO DIFFERENT Signature productions tied for second place in number of nominations with nine each for "Kiss of the Spider Woman" and "The Visit," both of which were part of Signature's Kander and Ebb Festival this past year. A third show of the festival, "The Happy Time" drew two nominations, one for David Margulies for lead actor and one for Carrie A. Johnson for supporting actress.
"The Visit" had nominations for outstanding musical as well as for direction (Frank Galati) musical direction (David Loud) and choreography (Ann Reinking). Its stars, Chita Rivera and George Hearn, were both nominated along with two supporting actors, Mark Jacoby and Jeremy Webb. The full cast was also nominated for the Canadian Embassy Award for Outstanding Ensemble.
The nominations for "Kiss of the Spider Woman" included outstanding musical as well as direction (Eric Schaeffer) musical direction (Jon Kalbfleisch) choreography (Karma Camp) set design (Adam Koch) lights (Chris Lee) and this cast was also nominated for the Canadian Embassy Award for Outstanding Ensemble. Both of its male leads were nominated: Will Chase and Hunter Foster.
Signature's production of "Ace" added five more nominations to the total including outstanding musical, another outstanding director of a musical nomination for Eric Schaeffer, Jill Paice for lead actress and both Angelina Kelly and Christiane Noll were nominated in the supporting actress category.
ONE NON-MUSICAL nomination for Signature was for Martin Moran as outstanding actor for his solo show, the autobiographical "The Tricky Part" dealing with his experience as a victim of sexual abuse as a child.
Other work in Arlington to earn recognition this year was at Synetic Theater, which performs in the Spectrum in Rosslyn and Arena Stage which puts on many of its shows in its temporary home in Crystal City where they have taken up residence while their multi-theater campus in Southwest Washington undergoes massive construction and renovation.
Three shows that Arena staged in Virginia drew nominations, including the Outstanding Non-Resident Production award for which their "Next to Normal" was eligible because it was first produced at Second Stage Theatre, an Off-Broadway theater in New York. This pits it against such heavy hitters as "The Lion King" at the Kennedy Center.
Work in "Next to Normal" was also nominated for lead actress (Alice Ripley), lead actor (J. Robert Spencer) and two supporting performances, Aaron Tveit and Jennifer Damiano. David Zinn's costume designs for "The Mystery of Irma Vep" earned him a nomination and the show "Resurrection" drew two nominations, one for supporting actor Che Ayende and one for the cast as a whole for the Canadian Embassy Award for Outstanding Ensemble.
Syntetic Theater drew a total of eight nominations in seven categories for work on three of their shows. Irina Tsikurishvili, who has all but dominated the award category of Outstanding Choreography was again nominated multiple times. This year she's up for the award for both "Carmen" and "Romeo and Juliet." Both of those productions were also nominated for the outstanding ensemble award. In addition, work on "Romeo and Juliet" was nominated for outstanding director (Paata Tsikurishvili) set design (Anastasia Ryurikov Simes) sound design (Irakli Kavsadze and Konstantine Lortkipanidze) and the production itself was nominated for outstanding play. Lortkipanidze was also nominated for his music direction of Synetic's "Host and Guest."
One other Arlington-related nomination was for the entire cast of Arlington's Keegan Theatre's production of "Translations" which was mounted at the Church Street Playhouse in Washington.
The winners will be announced at a gala celebration on April 13 at the Warner Theatre in Washington followed by an event at the JW Marriott Hotel which has been termed "Washington's biggest cast party."
<i>Brad Hathaway reviews theater in Virginia, Washington and Maryland as well as Broadway, and edits Potomac Stages, (www.PotomacStages.com). He can be reached at Brad@PotomacStages.com.</i>