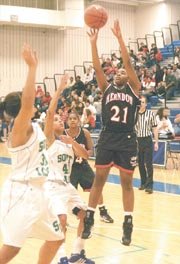 The Herndon High boys basketball team saw its season end on Monday night with a 59-53 loss at Stuart in a first-round Northern Region playoff game.
The Hornets, under second-year head coach Chris Whelan, finished the season with a 13-10 record. Herndon, a week ago, advanced to the semifinals of the Concorde District tournament before losing to Westfield, 59-56. So, following a winter in which the Hornets went an impressive 9-3 in district play during the regular season, the back-to-back losses to close the season were a downer for a club that had hopes of being a region playoff contender.
Herndon, which trailed Stuart, 28-23, at halftime, had a big game from senior Isaac Johnson, who scored 22 points. Johnson earned First Team All-District recognition this season. Also in double figures for the Hornets was sophomore point guard Austin Hamilton (15 points), a Second Team All-District selection.
Stuart (19-6), a member of the National District, was scheduled to play at defending state AAA champion T.C. Williams on Tuesday night in a second-round game.
Herndon's only postseason win came over Oakton, 71-53, in a first-round district playoff home game on Feb. 17. The victory over the Cougars secured a region playoff berth for the Hornets. Four Herndon players finished in double figures in the win over Oakton. Hamilton led the way with 20 points, while Zack Ozycz (14), Johnson (11) and Marcus Hamilton (10) also had good games.
<b>IN GIRLS' REGION PLAYOFF</b> action, South Lakes, the Liberty District regular season champion, saw a late comeback fall short in a 53-48 home loss to South County on Monday night. The Seahawks (19-4), who trailed by as much as 23-6 early in the second quarter, rallied to pull within 51-48 in the final minute of play, but could get no closer.
South County (15-7) was led by sophomore center Simone Antwi, who scored 26 points and pulled down 17 rebounds. South Lakes had big nights from senior tri-captains Kelcyn Manurs (17 points), Kacey Liscomb (14, all in the second half) and Jasmine Jones (nine points).
It was South Lakes' first region playoff appearance in about 10 years. The Seahawks, a week ago, had been upset by Madison in a semifinals game of the Liberty District tournament. They were hoping to bounce back strong with a win at regionals.
"I told the girls [following the game] I was extremely proud of them at the end of the game," said South Lakes coach Christy Winters Scott, whose team has won three, four, 11 and 19 games over her four years as head coach. "They had a tremendous push [in the final quarter]. That was Seahawks' basketball. The crowd was there and the energy was in the place.
South Lakes' only losses all season long came to Langley, twice; Madison, in the district semifinals, and South County.
<b>THROUGHOUT THE</b> first half especially, the Stallions looked to get the ball into Antwi's hands inside the paint. The results were several converted shots from close range.
"Clearly they had a size advantage all around," said Winters Scott. "That's a daunting task for us."
Antwi, one of the top players in the region, is extremely skilled along with having good size. She shoots the ball well, moves up and down the court with energy and hustle and blocks out in textbook fashion on the boards. Several of her baskets came off of rebound follow-ups.
"I've watched videos of her," said Winters Scott. "She's definitely phenomenal. We tried to take the lob pass away. We knew that was their bread and butter."
South Lakes appeared to be taken back by Antwi's prowess and presence in the first quarter. She scored consecutive close-range shots during the opening minutes of the game to help the guests build a 9-1 lead and she finished the first quarter with 12 points.
"We know our strength," said South County coach Chrissy Kelly, whose young team has just one senior member.
Kelly was most impressed with her team's defensive prowess. While South Lakes' three key players — senior tri-captains Manurs, Liscomb (14 points) and Jones (nine points, six rebounds) accounted for 40 of South Lakes' 48 points, Kelly said her team did about as well as it could do against the talented Seahawks.
"We find our identity on defense," said Kelly. "South Lakes has a lot of experience in their guards. They have an outstanding trio of guards. Every single one of them is a threat with the ball in their hands."
Kelly anticipated a late game uprising by South Lakes because of its' key backcourt players.
"I knew they would turn it up," she said. "They are tough guards with a scoring mentality."
South County was scheduled to play at Oakton in a round two region playoff game on Tuesday.
<b>THE OAKTON GIRLS</b> breezed to a 78-27 first-round region playoff win over visiting Stuart on Monday night. With the win, the Cougars improved their season record to 25-0. Oakton needed a second-round win over South County on Tuesday to get back to the region Final Four.
Oakton, under coach Fred Priester, defeated Westfield in the Concorde District finals last week, 36-34. It was the Cougars' closest game of the season.