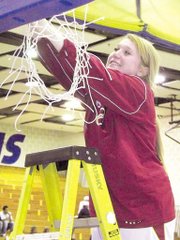 Winning district titles never becomes old for Oakton High girls basketball coach Fred Priester, who has led the Cougars to several district crowns during his tenure at the helm of the program.
"It's always going to be important to me," said Priester. "Sometimes people worry about the [Northern] Region [crown], but this is always very enjoyable to me."
Last Friday night, Oakton garnered this year's Concorde District championship when it defeated Westfield, 36-34, in the tournament finals held at Robinson High School. With the win, the Cougars remained unbeaten at 24-0 going into this week's 16-team region tournament. Oakton was scheduled to host a first-round region playoff game against Stuart on Monday.
Oakton defeated Westfield in both of the regular-season meetings between the two teams — 68-57 at Westfield on Dec. 16, and 51-43 at Oakton on Jan. 29.
Priester, prior to Friday's title game, believed his team would not have as good a chance to win if the score was low. Well, the score turned out to be low, but the Cougars still prevailed.
"I told the kids on the bus ride over here, if this game is in the 40s, we're going to be in trouble," said Priester, whose team led the Bulldogs 19-15 at the half. "Both teams played excellent defense the whole game."
<b>THE COACH</b> said his squad struggled on the backboards in the game's opening half.
"I felt like the first half we did a very poor job on the boards," he said. "They got a lot of opportunities. Sometimes when we were in good position for a put-back, we didn't get the put-back. The second half we just did not hold onto the ball a couple of times."
Westfield, near game's end, had possession of the ball with 4.6 seconds remaining and down by two. Priester did not want Shelby Romine, Westfield's best player, to get off the final shot. It turned out that Romine quickly brought the ball upcourt, but passed it once she crossed half court. Another Bulldog player ended up taking the final shot. It looked as if it had a chance to go in, but missed, giving Oakton the game and the title.
"When it went up in the air, I thought it was in," said Priester. "It had good rotation on it. It was straight."
Oakton called back-to-back timeouts prior to that final shot attempt by Westfield.
"The kids weren't understanding what I was telling them," said Priester. "I told them what I wanted to do and I just don't think that they had it. I had a bunch of timeouts left, so I figured we'd go out and see how they lined up. They lined up pretty much how I thought they'd line up. I knew that Shelby had great speed and was going to get by Caroline and we had Katherine pick her up at half court. [Romine] got rid of the ball and technically they were four-on-three at that point. They threw it to whoever was there, and I just said don't foul 'em. If they hit it, they hit it."
They didn't and Oakton, to the relief of the Cougars' faithful, was victorious.
<b>OAKTON</b> had two players score in double figures in the win — senior forward Erin McGartland (11 points), who earned tourney MVP honors and freshmen guard Katherine Coyer (10). Westfield's Romine scored 13 points.
Priester said it was a tough task holding down Romine.
"We had a couple things that we wanted to do and we thought we did a decent job on her," said Priester. "Then towards the fourth quarter, we made a very subtle change in how we were handling her. [Twins] Caroline and Katherine Coyer did a great job on her."
The game might not have gone the exact way coach Priester would have mapped it out, but it was a hard earned win and gained Oakton another district title.
"It probably wasn't artistic, but it was a good, competitive game," said Priester. "Both teams were trying really, really hard to win. We knew we had to play good defense. We knew we had to sort of limit [Romine] a little bit and we didn't get the [rebounds] I hoped we would've got. We scored enough to win."
Oakton, the district tournament's No. 1 seed, received a first-round bye, then defeated Chantilly, 44-37, in a semifinals game played at Robinson on Feb. 18.
Westfield, the No. 2 seed, won games over No. 7 Fairfax and No. 3 Robinson, 47-40, to reach the championship game.
<lst>Jason Mackey contributed to this report.