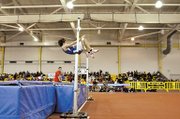 Track and field, unlike most other sports, offers participants a direct measuring stick of their performance. If a high school basketball player drills a 3-pointer from beyond the arc at 19 feet, 9 inches, that same shot would fall 4 feet short of an NBA basket.
In football, measurements are mostly standard throughout the sport but up to 21 other players can become a deciding factor on any given play. Pitch speeds and movements vary just a tad from high school to professional baseball, not to mention the differences between aluminum and wooden bats.
But in track and field and more specifically the high jump, 76 inches means 76 inches. No outside factors exist except the athlete and the bar. In the Muzzio household, those 76 inches have become a hot-button topic as of late.
Joey Muzzio is a sophomore high jumper on the Robinson track and field team. At an indoor meet on Dec. 13, Muzzio cleared 6 feet, 3 inches, which is one inch shy of the Robinson school record.
The current record holder? It's Muzzio's father, Rob, who's also a coach for the Rams.
"I saw that record and started thinking, 'Wouldn't that be awesome if I broke it?'" Joey Muzzio said of the 6-4 record. "Because it's my dad's, I know that would make him happy and that would be really cool."
<b>ASKED WHETHER</b> or not it mattered if his record stood the test of time, Rob Muzzio didn't hesitate. And it was not the answer one might expect.
"Who else in the world would you want to have it other than your own kid?" he said. "It would be really nice if one of the kids that you coach were to get it, but for it to be your own son, that would be awesome."
Not only does Rob Muzzio hold the school's high jump record, his name appears a few other times on that list, too. Rob Muzzio holds the 110 outdoor hurdles, the 55 indoor hurdles and indoor long jump records.
He's also an Olympic decathlete, finishing fifth in the 1992 Barcelona Games. Earlier, Rob Muzzio attended George Mason University and won the NCAA Division I decathlete title in 1984 and 1985, becoming the youngest to do so as a 19-year-old in 1984.
The elder Muzzio never forced track and field on his son, although he admitted to giving a slight nudge toward the sport as a conditioning measure for football. "We told him to go and do something," Rob Muzzio joked.
Joey Muzzio started jumping with the Southwestern Youth Association and immediately started to gravitate toward the high jump. He had a natural jumping ability, and, before his form resembled anything the least bit formidable, relied heavily on the strength of his legs.
Once he got to Robinson, Muzzio played football during his freshman season but didn't come back as a sophomore, deciding instead to focus on indoor and outdoor track. Oh, and paintball, another one of his interests.
<b>ROB MUZZIO</b> tapes his son and Robinson's other high jumpers at practices and meets, and the group sits down with a portable television to analyze each other's performances. The coaching has helped Joey Muzzio mature not only as a jumper but as an overall contributor to Robinson's track and field program.
"He doesn't want to be labeled as just a jumper," said head coach Mark Gleason, who considers Joey Muzzio one of his top relay candidates as well. "He knows he has a gift there and he's working on it, but he also feels that he has more to offer to the program."
Joey Muzzio hit the 6-3 mark again at the Friends of Indoor Track and Field Invitational at the Prince George's Sports and Learning Center on Dec. 29, finishing third. According to both father and son, Joey Muzzio needs to improve his approach to the bar and how he contorts his body when trying to clear it.
But regardless of whether his son owns Robinson's record before the end of the year, one thing is clear. Joey Muzzio is much farther along than his father was during his sophomore year as Rob Muzzio set his mark as a senior.
"I feel like I have a big advantage," Joey Muzzio said. "It's cool because if I have a problem, I'll go ask him and he normally knows everything. Every question I have, he has a way to fix it."