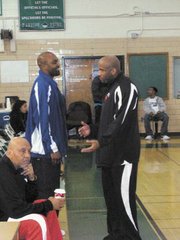 Of all places for Alexandria rivals T.C. Williams and St. Stephen's/St. Agnes to meet for a basketball game, the cramped confines of Arlington's Wakefield High School would seem to be one of the last places people would think of.
But that's exactly what happened on Dec. 29 as the two schools met in the semi-final round of the Wakefield Holiday Tournament, an irony not lost on Saints coach Kevin McLinton after his team defeated Osbourn Park, 54-52, in a nail-biting first round game.
"I'm looking forward to this game," he said. "Any time you get the Alexandria schools together, it's a lot of fun."
Match-ups not necessarily foreseen when schedules are released are what makes the holidays so great for any basketball junkie around the area. The Saints and Titans faced off in front of a nearly packed gym at Wakefield, and the crowd was almost entirely made up of Alexandrians.
"It's exciting because people from all over Virginia and Maryland and D.C. can come watch us play, and all of our friends, who are normally playing, can come watch us play," said T.C. Williams senior Ryan Yates after his Titans defeated the Saints, 59-44.
<b>COACHES AND PLAYERS</b> alike agree that playing in some sort of tournament over break proves beneficial come playoff time. With games on consecutive days, and oftentimes against unfamiliar opponents, the break can serve as an early simulation of what it will be like once district or conference tournaments begin in February.
In T.C. Williams and the Saints' case, getting in as many games as possible early on has served both squads well in acclimating new players that will be counted on down the stretch. While the Titans return stars Yates and Edward Jenkins from last year's state title team, there are impact players like junior Billy Rowland, a transfer from Bishop Ireton, who hadn't yet become fully acclimated to the squad.
After averaging about 11 points per game in the Titans first five games of the season, Rowland seemed to reach a comfort zone of sorts, dominating the interior during the Wakefield tournament while averaging close to 16 points per contest. He was named tournament MVP as a result.
"I've never really played in a real Christmas tournament," said Rowland. "I wanted to take advantage of it."
Added teammate and guard Gavin Peterson: "You can tell this is bringing our team more together. I like the chemistry we get from tournaments."
<b>FOR THE SAINTS</b>, going to Wakefield allowed McClinton to further test his duo of impressive sophomores, point guard Dexter Lindsay and Dante Allison, against some of the top competition in the area.
Lindsay responded with 14 points and some clutch plays down the stretch in the Saints' narrow victory over Osbourn Park in the opening round, while Allison added in 14 points of his own when SSSAS defeated Annandale to take third place overall. Junior Jack Hamilton paced the Saints throughout, averaging more than 13 points in the team's three games.
"The thing I like about (tournaments) is that you don't have a long layoff," said McClinton. "You've got two weeks off before you go back to school, so I like for our guys to be doing something. You get to enjoy time with your family over Christmas, but then you get to go back and do what you enjoy doing and that's basketball."
<b>TITANS COACH</b> Julian King likes the tournament format because playing so many games in so few days tends to illuminate a team's deficiencies. King felt his team coasted against the Saints, and despite the win, was looking forward to the next day's championship game against Wakefield in order to correct those mistakes. T.C. Williams responded with an impressive 67-51 victory over the formally one-loss Warriors. The game was attended by so many people, Wakefield officials had to shut the doors to the building five minutes before game time due to fire marshal rules.
The Titans girl's basketball team got the opportunity to travel to Myrtle Beach, S.C., where they finished with a 2-2 record. The Ireton boy's team traveled down to Tampa for a tournament as well. King said he hopes to travel somewhere outside the area next season. But whether near or far, T.C. Williams, like most schools in this area, will be at a tournament somewhere next season.
"We're the defending state champions and if you want to keep that up, you never rest," said King.