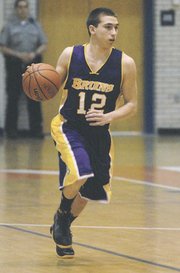 With proven scorers Mike Landon, Ian Asinugo and Hobbs Petros gone from last year's Northern Region semifinal team, Lake Braddock boys basketball coach Brian Metress knew early on this season he'd have to rely on his top returning scorer, senior point guard Dominic Morra.
Through 10 games, eight wins and a Hubert Davis Tournament of Champions title, the Bruins have benefited greatly from Morra's contributions.
"We wouldn't lean on him if we didn't think he could handle it," said Metress, following Tuesday night's 50-45 loss at Hayfield, dropping the team's record to 8-2 overall, 2-1 in Patriot District play.
At Lake Braddock's own holiday tournament, Morra earned Most Valuable Player honors while teammate Ryan Curtis was named to the all-tournament team. In a season-opening win at Robinson, Morra totaled 50 points and led the Bruins again at Hayfield with 29.
But according to Metress, Lake Braddock struggled defensively against Hayfield — something the Bruins hadn't done during their run through the Hubert Davis tournament.
"This game is about stopping people," said Metress, whose team will host Annandale on Friday. "Everybody trades baskets every once in a while, but I thought we did a better job in the tournament of stopping people than we did [Tuesday]."
And in the ever-competitive Patriot District, featuring perennial powers such as T.C. Williams, Annandale, Hayfield and Lee, Metress doesn't want to get caught worrying about Tuesday's game come Friday.
"It's just like Georgetown beating Connecticut and then losing to Pittsburgh and Notre Dame," Metress said. "If you worry about losing to Hayfield, you'll lose to Annandale."