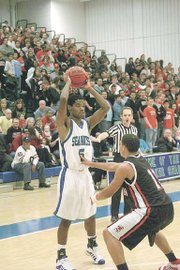 The South Lakes High boys' basketball team went up against one of the better opponents it will face this season when it met Liberty High (Va.) in a first round contest of the Bulldog Bash Holiday Tournament Dec. 27. The festive, winter break tournament was hosted by Westfield High School.
South Lakes lost to Liberty, a physically big, athletic team with numerous future college players on its roster, by just five points. Thereafter, the Seahawks won tournament games over both Heritage (Leesburg) and Loudoun Valley (Cedar Park District) to finish fifth overall in the eight-team field.
"I thought we played well," said South Lakes coach Darryl Branch, of his team's three tournament games. "We had a good time overall and I'm hoping it prepared us for the district [schedule]."
<b>SOUTH LAKES</b> (6-3) was scheduled to begin the heart of its season schedule this week with Liberty District road games at Langley, Jan. 6, and W.T. Woodson this Friday night, Jan. 9. Langley is the defending district champion.
The Seahawks will face plenty of challenges as the season moves on, but it might not likely face another team the caliber of Liberty High until the postseason.
"They are very physical and much bigger than we are," said Branch, of the Liberty High team, which a year ago finished second in the state AA tournament. "They are very good."
Branch said Liberty reminded him of Northern Region teams such as Wakefield (Arlington) and Hayfield (Alexandria), talented teams who can wear down opponents with their size and strength. South Lakes lost to Wakefield during the preseason and fell to Hayfield earlier in the regular season.
"We were physically outmanned in those games," Branch said of the losses to the Warriors and Hawks. "We played better against Liberty. I look forward to playing teams like that."
South Lakes senior point guard Travis Williams, who is averaging 23 points per game, tallied 34 against Liberty. He went on to earn All-Tournament honors.
Branch said South Lakes received stellar play throughout the tournament from sophomore guard Alex Shipp, who sparked the Seahawks with his solid play off the bench. He scored seven points in South Lakes' 59-45 tourney win over Heritage Dec. 29.
Branch said he is optimistic about his team's recent play and said his players are excited to be getting into the bulk of the Liberty District schedule. Going into this week, South Lakes was 2-0 in district play with the victories coming over Madison and Jefferson.
"I like our team and the direction we're headed," Branch said.
South Lakes' next home game is set for next Tuesday night, Jan. 13, against Marshall.