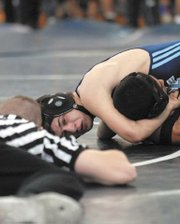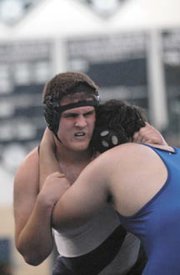 Not every freshman has the ability to be as cool and collected as Yorktown's Nolan Paduda, who watched with anticipation as his Yorktown team gave up three pins to start its match against Wakefield, knowing full well his bout in the 130-pound weight class would be the last of the match.
The Warriors jumped out to an 18-0 lead before the Patriots began to claw their way back, and after Danillo Downing accepted a forfeit win in the meet's penultimate bout, it left Yorktown trailing by just one point, 37-36 and Paduda with a whole lot of eyes focused on his performance.
Paduda passed his pressure-packed test with flying colors, pinning Wakefield's Jose Rodriguez using a half nelson with 0:51 seconds remaining in the third period to give the Patriots a 42-37 victory as part of Saturday's Arlington wrestling meet that pitted all four Arlington schools — Yorktown, Washington-Lee, Wakefield, and Bishop O'Connell — against one another.
"I just knew I couldn't hold back and I had to go all out because I needed to win," said Paduda, whose team also defeated Washington-Lee, 43-28, to finish 2-1 on the day. "I was a little nervous but once I step on the mat most of it goes away and I'm just ready to go out there and wrestle."
<b>BISHOP O'CONNELL</b> was the big winner on the day, having no trouble in dispensing with all three public schools. The Knights defeated Yorktown (62-15), Washington-Lee (63-11), and Wakefield (66-9) with eight wrestlers going 3-0 individually. Most notable were Curtis Jenney (103 pounds), Kyle Mason (119 pounds), and Nam Dunbar (130 pounds).
But the three matches between National District foes and neighborhood rivals Yorktown, W-L, and Wakefield made for the most excitement on the afternoon.
Although it came out on the losing end of last-match heroics against Yorktown, Wakefield got a chance to redeem itself when its match against W-L went down to the wire as well. In a reversal of fortune, Wakefield was the team to take some pivotal points via a forfeit in the second-to-last match, this time in the 135-pound weight class that made the meet score 30-29 in W-L's favor.
And after the Warriors' Carlos Bonilla (140 pounds) used an arm bar to pin W-L's Mike Watson to give his Wakefield the deciding victory, he credited his ability to focus singularly on the task at hand for his team's 35-30 win.
"All I do is concentrate, think of three moves I'm going to do, and just go in there and execute," said Bonilla, who along with Henry Vasquez (103 pounds), Henry Majano (119 pounds), and Victor Leavell (135 pounds), was one of four Wakefield wrestlers to go 2-1 on the day. Chris Ioffreda (171 pounds) and Oscar Lobos (189 pounds) both finished with unblemished 3-0 records.
<b>THE AFTERNOON WAS</b> bittersweet for W-L, who finished 0-3 in the final wrestling matches ever in its home gym since renovations on the school's new athletic facilities will be done by next fall. One bright spot was heavyweight Conor Sharp, who staged the day's most memorable match.
Trailing by two in the third period to O'Connell's Jonathan Nieto after a sloppy attempt at a takedown, Sharp scored a reversal and two back points with less than 30 seconds remaining in the third and final period on his way to an 8-6 victory that had the Generals' fans on their feet afterwards.
"It's nice because it was the first match I've gone the distance in and won in points," said a relieved Sharp, who was the only W-L wrestler to win all three of his bouts.
Meanwhile <b>Yorktown</b> had plenty to be happy about en route to a 2-1 finish on the day. While the Patriots' late surge against Wakefield provided an early highlight, it was the performances of Dean Kime (119 pounds) and Alex Grove (152 pounds), both of whom sported undefeated 3-0 records, that shined brightest throughout.
Hunter Rheume (145 pounds) and Nathan Young (171 pounds) joined Paduda and two others with 2-1 records for Yorktown. Afterwards, Patriots coach James Blanton was asked if he relished the late match heroics that ended up giving his team the deciding victory amongst Arlington public schools. He wasn't as keen on the situation as his remarkably calm freshmen seemed to be.
"It put a gray hair in my head," Blanton said with a laugh. "But it was a great match."